22 Frequently Asked Questions On Breaking Into The Tech Industry
May 7, 2021
2021-05-07 16:43
22 Frequently Asked Questions On Breaking Into The Tech Industry
Oftentimes I get questions from tech newbies just like you on breaking into tech. Questions like 'how do I get started in tech?' Or specifically about the courses we offer at Heels and Tech and even about the industry generally.
I get it. I was quite confused too at first. Having a mentor to put you through, even if virtually, goes a long way in placing your feet firmly and helping you start your tech career.
It is for that very reason that I made this post. I figured answering the most common questions we get from people switching into the tech industry will do you ladies much good.
Do feel free to send any more questions you may have our way. Heels and Tech is always more than glad to clear the air for you 🙂
Shall we?
Trying to navigate my way into the tech space but I have been having issues. Please how can you help?
The first thing I always tell my students is to work on their mindset. Mindset is veryyy important. You need to build that can-do spirit to the peak if you want to navigate your way into the tech space. You would be amazed, just like Ibukun was, by the heights you can reach with a determined mind.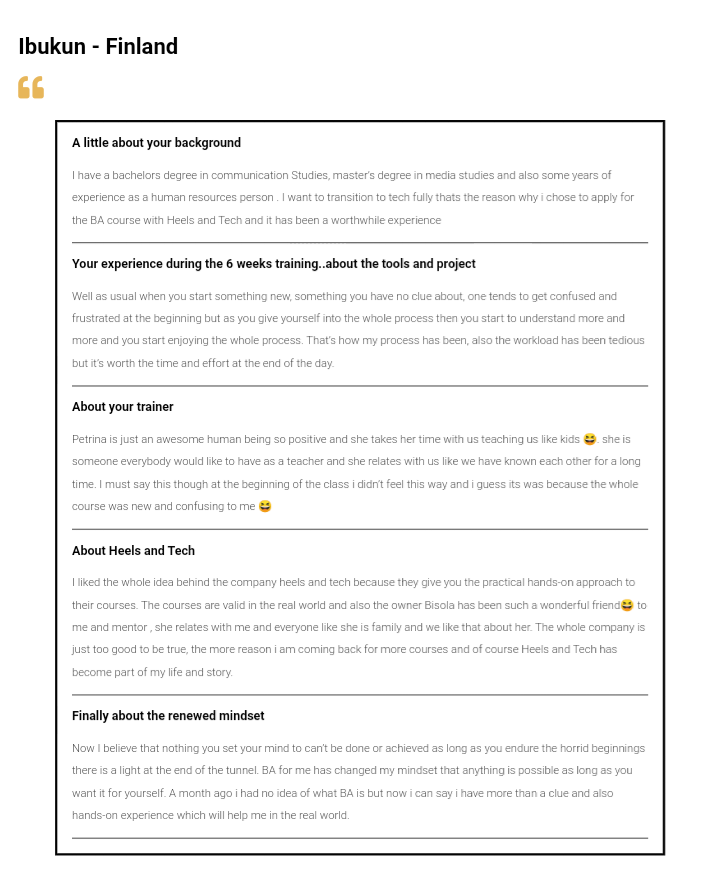 I want to transition into tech, I don't know where or how to start. Can you kindly advise me?
You can start by watching this video on how to transition into tech. I did a complete breakdown of every info you need to transition in that video. Besides that, get a laptop, a good internet connection and be ready to learn all you can from courses on your prefered tech niche.
Do you think I can fit into the tech space without prior knowledge of tech and business administration?
Of course you can fit in just perfect! You don't need prior knowledge of tech or business administration at all.
Perhaps reading stories by students who have taken our courses can help in convincing you more. Go a step further and take a great course on business analysis. Taking this course will make you a great fit in any company as a business analyst.
I recently applied for Canada PR, I don't want to go there and be basic. What do I do?
I always advise you to research in-demand careers in any country you intend to move to. I am aware jobs such as Business Analysis, Data Analysis, Salesforce CRM, SAP HR Success factor, Project Management are in high demand in Canada amongst others. Once you are hundred percent sure of the career you picked for relocating, the next thing to do is a deep research on what the job you applied for entails. Do a gap analysis on where you are currently and what you need to do. The next thing is for you to close the gap by enrolling in our bootcamp where we will train and hold your hands. 
Get your certification. Reach out to recruiters on LinkedIn. Polish your CV to Canada's standards (or any other country of your choice). 
Make sure to have all these ready while you're still in your country. Then you're good to go. 
Fun Fact: did you know polishing your CV for you is an added bonus if you take any course on Heels and Tech? Yep, we would do that for you as a part of your learning package.
How can someone with a legal background benefit from the tech industry?
As someone with a legal background, you already have the soft skills a  business analyst needs. A business analyst must have research, presentation and negotiation skills. You just need to build yourself on the hard skills. 
You can also niche down to GDPR (General Data Protection Regulation). It pertains to online security for personal data and the likes — something you are most likely familiar with as a law student.
Another tech role that would suit you just fine is tech policy lawyer. You know all those rules on Twitter, Instagram and Facebook? Well, a tech policy lawyer wrote those. Here are more ideas on how you can function as a tech lawyer.
I don't have a GDPR background and I am also interested in legal tech. What do you think should be the first step for me to transition?
Okay, the first step is to analyze what your soft and hard skills are. A firm grasp on that will help figure out where to start in your transitioning journey to legal tech. We would recommend that you take a business analysis course  and then focus on GDPR. 
How do I apply tech to my nursing career and earn from it?
Salesforce Administrator is a tech career you can venture into with your background in nursing. This is a right choice for you because some of the most important skills you need as a salesforce administrator are empathy and a keen desire to help others, qualities your nursing career will have imbibed in you.
You can get started by watching Alexius, a Salesforce Administrator at Hootsuite, share her transition story. Then the next step should be taking our practical training which Salesforce gave a thumbs up to.
Hi, I'm currently an Account Manager and I'm looking to transition into a tech role. My confusion now is which tech roles do I venture into?
Engagement management. One of the easiest tech roles for career changers, and befitting for your experience managing clients' relationships with the company. We've answered what an engagement manager is and how you can become one in this webinar.
Is tech all about coding?
No, tech is not all about coding. There are actually over 17 non-coding tech jobs on-demand in the industry right now. I know there's this rave all around on how techies sit by their computers and code all day long. But you can be a tech sis without all that technicality. For real. 
Will your courses boost my credit score?
If you're talking about Canada's boosted score, we don't do that at Heels and Tech. 
What are the possible cons in the tech space?
Well, a con of being in the tech space would be the workload. You need to mentally prepare yourself for the amount of work that comes with being a techie. Some others you can see in this funny video
I am in Canada and on one year leave. I need to equip myself. How do I start?
You can go through the courses available on our website and opt for the ones you like. The timeframe for each course is hourly (and lasts a month on average) to make for a flexible learning plan. You learn at your pace.
Esther, one of our past students, enrolled in our bootcamp during her maternity leave because she was bored. She took the Business Analysis class and registered for the Salesforce CRM Class too. Just a few weeks before graduating, she applied for the role of a Salesforce Business Analyst afraid and she got in! Listen to her story here.
Tech always seems so technical hence my fear of transitioning. Please advise me, I fear I won't fit in?
The popular notion on how tech is so technical and all is part of what brought about these free non-coding courses on Heels and Tech. We believe spreading the gospel on these courses would help bridge the gender gap that exists in the tech industry. 
Many ladies are just as reluctant as you are to join the tech space because of this wrong notion. But no need to fear. You would fit right in. No technicality involved 🙂
Start by enrolling for the free courses on our site.
What materials do I need to commence Salesforce/BA training?
You need teaching materials that are hands-on and tailored for the workplace in reality. Luckily, we have courses here to prepare you for careers in both Business Analysis and Salesforce CRM. 
See what Kefe a former student had to say:
Project Management or Product Management, which do you believe will thrive more in Canada?
Both of these jobs thrive in Canada. In terms of 'more' like you asked, product management is the answer.
Take a look at the number of companies in Canada in need of project managers and product managers. Now take a look at the average pay for project managers and product managers too.
Product managers can actually take up the role of project managers. Which explains why there are more job vacancies for them and a higher pay. 
Is there a guarantee of landing a remote job after enrolling in your training?
That said, we can guarantee five things — success secrets, hot tech job alerts sent directly to you, mentorship, a polished CV, and a LinkedIn audit. 
Some helpful resources:
Here are some of our best tips for acing a tech interview.
After training, how do I go on to conquer the world in Business Analytics?
By the time you are done with our course on business analysis, you would be more than ready to take the world by its horns. Our course on business analysis would have prepared you for real-life BA projects using Agile and Waterfall methods to enable you to succeed in any of these BA focused jobs. 
Between Salesforce and BA, which one has better reception in the marketplace after certification?
Both are highly sought-after in the marketplace.
The salesforce economy is expected to create 3.3 million new jobs by 2022 while the need for business analysts is expected to increase by 11% by 2024. It's up to you to pick the one you prefer. 
However, I always advise my students to take the business analysis course and then niche down to salesforce. You really can't go wrong with this alternative.
All the BA Job Advertisements I've seen usually ask for a minimum of 3 years work experience. What is the hope for new comers like us?
You have a shot in the labor market even as a newcomer. Business analysts are vital to any business looking to succeed and remain highly sought-after, even if you are fresh-faced.
What you need to do is package yourself as a must-have business analyst for every employer. 
How do you do that? Develop exceptional thinking, negotiation and technical skills. Employers are always on the look-out for those skills in a business analyst.
What are the benefits of acquiring Salesforce skills?
The first benefit is how high your prospects are in securing a high-paying job as a Salesforce professional. On average a salesforce professional earns $84,922 yearly.
That's because Salesforce is an efficient customer-relationship-management (CRM) tool. Every top business out there knows satisfied customers means good business. Who better to put in charge if not a Salesforce pro? 
Another benefit is how broad Salesforce is. You can decide to specialize as a Salesforce developer, Salesforce Business Analyst, Salesforce Developer and so on. 
How are Salesforce CRM and Scrum Master different from Business Analysis?
These three have distinctive roles. Let's start with what a scrum master does. A scrum master helps development teams apply the scrum framework. A Salesforce administrator ensures the effective use of Salesforce as a customer relationship management tool. While a business analyst is a consultant that transforms requirements from the business to the technology team.
Salesforce CRM and business analysis are kind of related in the sense that a business analyst can choose to specialize as a Salesforce business analyst.
What's the difference between product management and project management?
Product management is continuous till that product is retired from the market. While project management has a fixed time— that is, till that project ends. 
Managing a product can involve as many projects as possible. For example, designing the UI of Twitter can be one project, adding an update to the app can be another. But all those projects are part of managing Twitter as a product.
Product management, in this case, involves identifying and implementing the needs of Twitter users. So, project management is each of those needs being divided into separate projects. 
Finally, Ladies…
Switching to tech is always a good idea. All you need is a determined and fierce spirit to navigate the waters plus a fantastic place to learn how to become a pro in your desired field in tech
Go get that bag sis!