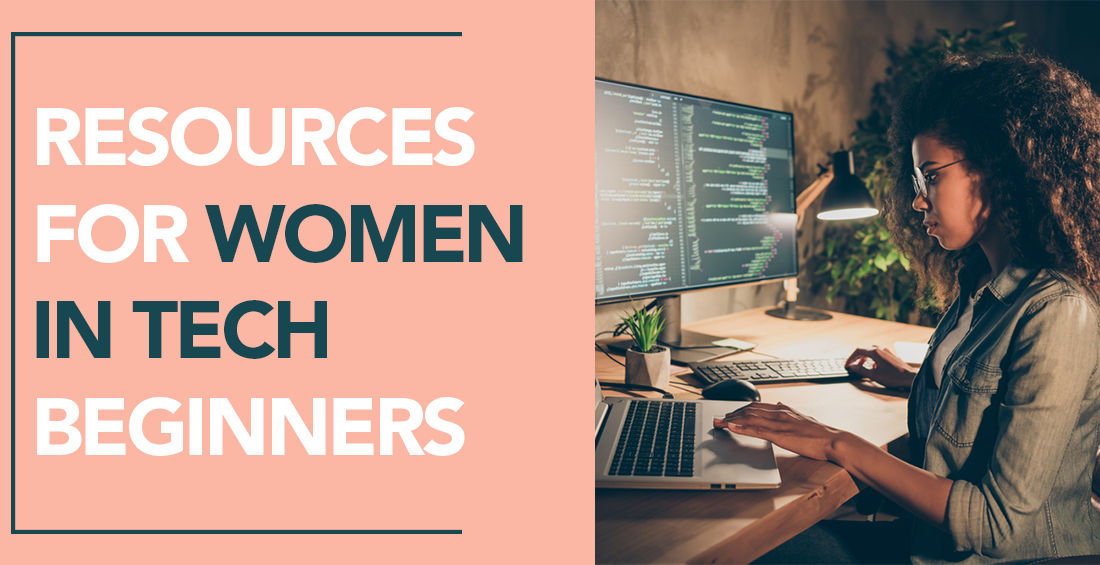 Resources for Women in Tech Beginners
The journey into tech can be so overwhelming. I continued and discontinued my tech lessons more times than I'm proud to number. "Am I in way over my head? Not smart enough?" Time and time again I doubted myself.
If you've ever dabbled in coding or something just as complex, then you can relate to this. During my newbie phase, I tried many resources online like blogs, YouTube and free courses. I even joined many tech communities of budding techies just like me to see if that would ease the learning process. My trial-and-error period is what gave birth to this video on how to transition to tech.
Today, I decided to go a step further and compile every necessary resource a tech newbie would need to break into tech, all in one place. Those I created right here on Heels and Tech, those I found amazingly helpful while building myself as a beginner, and those that came highly recommended from my friends with diverse tech jobs.
Read on to discover fabulous teaching materials, where to find the best tech jobs and great tips on how to bag your very first tech job!
Table of Contents
How To Break Into Tech Without Coding
A friend once asked, "Is tech all about coding?" The simple answer is no. Writing codes isn't all that there is to the tech industry. As a matter of fact, there are more than 17 tech jobs that don't require coding skills. On-demand and just as vital.
That said, how then can you get into one of those?
First, check out these easy tech jobs for career changers, get certified, and clinch a job.
Tobi Afolabi who was a content creator, now a UX/UI Designer, also shared how she got started in tech with us. Check that out, then keep reading on for the best learning resources for non-coding tech jobs. From a non-coding tech sis to another 🙂
Take Me Back to the Table of Contents>>
Best Learning Resources for UI/UX Design
UI/UX design is what makes apps and websites visually appealing and easy to navigate.
Take for instance the UI. The user interface (UI) of Heels and Tech website would be the popping black-and-yellow text color, the font used and the colorful layout.
The user experience (UX) of our website, on the other hand, is that top right navigation bar on the home page that takes you to every resource offered by us.
People who dive into UI/UX design can be product designers, UI architects, UX strategists and so on.
If you feel you're a baddie at designing and would like to really get into UI/UX, go ahead and try out these four resources:
Train to be a tech designer in just 6 weeks with our UI/UX course. In a world gradually becoming more remote and digital, the role of people who can design digital products and a seamless digital experience is becoming more important. With our course, you'll learn beyond the fundamentals, you'll also put to practise and create your own portfolio of products to help you land a job quicker.
Get started by clicking here.
If you are looking for the whole package on UI/UX learning resources, this is it. Oyindamola went from a brief intro on UI/UX design to answering questions beginners frequently ask.
She then capped it off with learning resources like design tools, YouTube videos, books, podcasts and courses on UI/UX. In addition to that, she included a curated space where fellow designers share their work to inspire each other.
If I didn't already have my area of expertise, I'd be tempted to venture into designing.
The Beginner's Guide to UI/UX Design is a tutorial website by Oyindamola Ajibike. Yep, it's a guide. I agree.
Here is another plethora of resources on product design (UI/UX) from a tech sis to another. I really liked how Oreoluwanimi attached the price (free and paid) for every tool and resource she shared. It was a really nice way to give budding designers an array of options to choose from.
Here's a down low of everything in her article —
Introduction to product designing
Design tools
Resource sites for fonts, colors, icons
Books on designing
Websites, Blogs and YouTube channels that give tutorials on UI/UX design
Illustrations
Mock-ups
Wireframing
Sis really thought of everything!
'For Every Junior Designer' is a Medium blog by Oreoluwanimi Adeyemi.
Femke Design has a website, podcast and youtube channel that teaches product design by engaging your eyes, ears and mind. The three things which you need as a product designer. Top rated resource. Thank me later.
Take Me Back to the Table of Contents>>
Best Learning Resources for Business Analysis
If you like the idea of being the central figure all teams report back to and being a boss while at it, then learning business analysis might just be your thing. Okay, I'm kidding. That's not all there is to being a business analyst.
Business analysts are baddies that can think on their feet, be a bridge between the business team and technology team, and communicate tasks to both sides in a simplified manner.
This tech field is a big deal which means business analysts never have to worry about being let go by a tech company. They are essential and can go ahead to set up their own consultancy firm. Or even get promoted to key managerial positions in any tech company they work in.
Now let's get you set up on the best learning resources you need to be a bomb business analyst.
The best learning resources for learning business analysis are right here on our website. That I can vouch for. Fine, don't take my word for it. Read Vivian's testimony and many others.
That's because the BA course on Heels and Tech is so hands-on and practical.
During the course of your study, you are assigned real-life BA projects to solve using Agile and Waterfall methods, exposed to regular scrum meetings with your team members, tasked to build your own digital product, taught how to develop the perfect personality of a BA and so much more.
Once you complete the business analysis course, we go a step further to award you a certificate of completion. One that can be added to your CV or resume.
Best Learning Resources for SalesforceCRM
Remember those times you forgot your email or Facebook password and requested help? It was a Salesforce professional that responded.
"Happy customers, Happy business" that right there is what I'd call the unofficial motto of Salesforce CRM.
Salesforce is a hot cake right now and techies that have a firm grasp of it are even hotter and highly sought-after.
That's because Salesforce is a powerful, cloud-based, customer relationship management tool. In simpler words, it is that tool tech companies use to manage their customer data all in one place. Like your username, passwords, and retrieval of either.
But Salesforce is not just a tool for managing customer data. You can actually use it to create business applications.
The professionals, such as you if you dig this, who handle Salesforce can go on to be Salesforce Developers (perfect for a coding sis that doesn't wanna do too much coding), Salesforce Administrators and Salesforce Business Analysts.
Okay, enough talk about the icing on the cake. Let's get you a plate of the cake itself — the best place to learn Salesforce CRM.
Before you roll your eyes on how you could already tell our website would be top on the list, check out this endorsement tweet by Salesforce on our Salesforce CRM course 🙂
Now see what Oluwakemi, a past student of our SalesforceCRM course had to say.
The SalesforceCRM course on Heels and Tech is designed to teach you everything you need at your fingertips to be a hotshot Salesforce Administrator.
Just take a look:
First, we sign you up for your own free Salesforce account. That account on its own is a portfolio you can use for the rest of your life.
Then we pace you into the real deal. Like how to create custom objects and records, teach you user interface (UI) design, how to operate automation tool features, set up reports and dashboards, extend Salesforce with third-party packages, and how to create page layouts to view data.
Once you complete the course, you get a lifetime access to all our resources, a polished CV and LinkedIn profile. Simply put, we hold your hands while transforming you into a hotshot Salesforce Administrator.
Best Learning Resources for SAP HR Success Factors
Think about all the tasks the HR (Human Resource) department does. Like hiring, firing, payroll, compiling employees data, and assessing employee performance. Think about all the filing and manual retrieval of info that must go on in there. Sounds hectic, right? Now think about a software that can do it all. That right there is what the SAP HR Success Factors Suite is — HR tasks made easier and efficient.
The SAP HR Success Factors is the next-generation, SAP product suite that provides cloud-based solutions to manage various HR functions.
HR is an essential part of tech companies and having a knack of how to operate the SAP HR Success Factor is you leveling up. Big time. I mean, look at these jobs and the mouthwatering pay attached.
Now to the main course — exactly where does a girl get coached to be a SAP HR Success Factors Professional?
The SAP HR Success Factors Course on Heels and Tech is an instructor-led training that will teach you how to automate all your HR processes by using this software. Let me show you a tip of the iceberg.
By the time you are done with this course, you will have mastery over the three self-service approaches to using the Success Factors Suite. Namely the administrative, employee and management approaches.
You will be able to unify all your employee data and manage your workforce using the Employee Central function of the software.
Not only that. You get lifetime access to all our resources, mentorship and hot job alerts sent directly to you.
Best Learning Resources for Data Analytics
Data rules the world. Like every sector you can think of.
For tech entrepreneurs, collation and analysis of data is as important as the air we breathe. I am not exaggerating. "How many times did Miss A use this product?" "What are consumers saying about this product?" "What's the latest market trend?"
Tech companies need these types of data collated and analyzed to decode what needs improvement and the next step towards greatness in the market.
And not just any data. The data has to be high-quality. A company is bound to suffer loss in capital and other resources if the data is not clean, reliable and high-quality.
So, you see data analysts are super techies. They do market research, filter unwanted data, transform that data into tables, charts and so on. The end goal of data analysts is to present tech companies with the best possible data.
Read on for the best learning resource you need to become a data analyst.
The data analytics course on Heels and Tech is the best learning resource you need to become a data analyst. But don't take my word for it. Instead have a look at all the goodies served in our course.
First, we teach you how to source for data. Then you learn how to pass through various processes that will transform it into clean, reliable and high-quality data. Processes like data preparation, modeling, visualization and analysis.
This course will help you master the skills to visualize data and interpret it to stakeholders in such an attention-grabbing manner with spot-on graphics. You will also be equipped with the powerful tool top-notch data analysts use, which is the Microsoft Power Bl. Here is an introductory course on Microsoft Power Bl right here on our website.
By the time you are done with this course, you will be able to analyze data from different data sources, create your own datasets, and effortlessly work with the different tools of the Power BI universe.
Best Learning Resources for Scrum
Scrum is the new way tech companies go about project implementation. No longer the old ways of reporting to a manager. Instead, self-organizing and cross-functional teams collaborate to bring results.
A scrum master is the one that makes sure those teams are working together, spearheads 'ceremonies' and removes any blockers that may hamper the team's progress.
Working as a scrum master is so fetch right now. Here is its rank among the most promising jobs in 2019 on LinkedIn and the pay attached, if you're considering working as one.
See? Now, let's get you on your way to becoming a badass scrum master.
Check out this free introductory course to scrum on our website.
We did a complete and beginner-friendly breakdown of key scrum roles, what it means for you to be a scrum master, the kind of professionals that will make up your team, the ceremonies a scrum master conducts, and a fab comparison of the Agile vs Waterfall methodologies.
Genella's YouTube channel where she shares her journey from losing her OAP job at the start of lockdown in 2020 to becoming a Scrum Master. I wrote more on her channel further down this post. Jump to it.
This website rightfully tagged 'The Home of Scrum' comes highly recommended and has every resource you would need on your journey into this field.
Best Learning Resources for Product Management
Product managers do exactly what their title says. They manage the tech product. Working as a product manager means you are like the CEO of that product. In the sense that, you oversee the product right from its inception as just an idea till it blossoms into a hotcake in the market.
As a product manager, you are essential to tech companies and it shows by how well-paid and on-demand y'all are.
Next up is the best learning resource you need to become a big deal in the tech space as a product manager.
Heels and Tech: we offer one of the most hands-on practical product management courses for beginners in product management. Taught by experts currently working in this field you'll get much more than lessons, you'll also get experiences that will make your job applications easier.
How to Become a Product Manager: Top Women in Product Management Share Their Career Path by Elpha Company. This guide gives you the processes needed to start a career in this field using the experiences of women currently excelling in it.
Shreya Doshi's long Twitter thread on resources for aspiring & new product managers. Shreya has worked as product manager in top startups like Google, Twitter, and now he's at Stripe.
Best Tech Channels on YouTube
One thing I liked so much about learning from these youtube channels was how real the content was. From personal experiences in the industry to how they nailed their job interviews, these youtubers kept it real.
You can watch replays of our webinars for free on our youtube channel.
Temi Olukoko is a software engineer and what I really like about her channel is how informative and beginner-friendly her contents are. Like how she got her job in tech and the beginner-friendly coding projects to practice with.
This channel has all the deets on being a scrum master. Like how to bag a scrum master job with zero experience, tools used and so much more.
If you have been looking for guidance from a fellow sis working as a scrum master, you should definitely check this channel out.
The Forever GeNella channel is by GeNella McCrary.
You can just tell right from the start that this channel was made to help UX designers, every step of the way. Every content is streamlined to maximize your productivity and career as a product designer. Some videos that really stood out, for me, were 'Product roadmapping and design plan' and 'The portfolio that got me hired at Uber'.
The femke.design channel is by Femke van Schoonhoven. My intrigue with the fab contents on her channel drove me to research more. And guess what? Femke has a website (with a job board for UX designers on job hunts) and co-hosts a podcast too.
Take Me Back to the Table of Contents>>
Best Tech Communities To Join
I found that being a part of a community not only increased my knowledge in my field of experience but it also meant a place to bond and grow with my fellow sisters in tech (what we now call networking). You know let off steam while helping each other grow. I highly recommend you join at least one.
Number one off the list is, of course, our very own community for women in tech just like you.
Accept this special invite to join our telegram or slack channel, and become a part of the tribe. We are excited for you to be a part of our Facebook community too.
Perhaps the best feature of this community aside from its job board is the option for women to share their troubles and experience with problematic bosses anonymously. That is a very important outlet. We all know how the tech space or any other employment space can be sometimes for us women. Sharing experiences we've had can be a saving grace for those job hunting. 10 out 10 community, I must say.
'You are techY' is a private facebook group for moms looking to get into tech, or those already in it looking for a support group. The workload from working as a tech mom with the workload at home sounds overwhelming. Just thinking about it is enough to do one's head in. Having a private group (which means all that is shared in it stays in) is a much needed blessing. Not a mom? You are free to join too 🙂
This facebook is a safe space to share any and everything from issues with being a working mom to learning resources for improvement.
Elpha is a community of women in engineering, product, sales, design, venture, marketing and more (just as their Twitter bio reads). They have a job board to help you easily find and land your next tech job, as well as several communities on topics varying from career growth, to family & relationships, to tech to even one where women celebrate their wins.
If you're looking for a community that will allow you to grow in your career, alongside other women, you should consider joining the Elpha company.
Take Me Back to the Table of Contents>>
5 Women In Tech Podcast
Know what's so insanely good about these podcasts? You could be sipping tea or running on a treadmill while listening to women in tech share their knowledge and insider information about the industry.
Podcasts are a way to connect to women in the same industry as you, have a good laugh, share experiences (the good and bad), success secrets and so much more.
Here are a few I dig a lot:
The Build a Career in Data Science Podcast
Take Me Back to the Table of Contents>>
Top Women in Tech
A good way to boost your morale while advancing in the tech industry is to look at women just like you who are in it and have become icons while at it.
This might turn out to be a lengthy list so, brace yourself. The names just kept piling up and, trust me, this isn't even all there is!
Twitter Lists
I discovered hundreds of women in tech from Twitter alone while compiling this list. See for yourself:
Are you also on Twitter? Then, you should join us on these hashtags, if you aren't already:
#womenintech
#blackwomenintech
#womenwhocode
Female Founders
Bisola Alabi
Bisola Alabi is the founder of this very EdTech startup, Heels and Tech. Heels and Tech is an online school program that aims to bridge the gap between women and tech by providing a platform that empowers and mentors women in non-coding tech jobs.
Kimberly Bryant
Kimberly Bryant is the founder of Black girls code — an organization that provides young and pre-teen girls of color opportunities to learn in-demand skills in technology and computer programming.
AfroTech Girls
Yvonne Ndu, Morenike Adewale-Sadik and Adeola Shasanya co-founded the Afrotech Girls. A Nigerian non-profit organisation that aims to increase participation of girls and young women in STEM.
I actually put up a recent post on 17 tech jobs that don't require coding skills. And for each job, I showcased a woman, from LinkedIn, in that field. Go check it out.
Best Place to Find Tech Jobs in 2021
Let's get real. This is the highlight of this post. All those hours you've spent learning and building yourself. All that neck snapping. It is about time it all paid off. Let's get you hooked to places where the hottest jobs are posted on the go.
Take Me Back to the Table of Contents>>
How To Get Into The Tech Industry With No Experience And Bag Your First Tech Job
If you are wondering how realistic it is to get into the tech industry with zero experience, here is the answer — yes, you can. I did, so can you.
Agreed employers put 'someone with X years of experience' in job ads but the tech industry is quite welcoming to newbies too. I mean everyone in this industry was once a newbie, right?
Anyway, if you're a tech newbie, with zero experience, on a hunt for jobs, these six proven secrets are for you. It doesn't matter whether you are into the coding or non-coding side of the tech industry. These tricks scored me and my coding friends our first tech jobs. No experience at all.
Be determined
The road to getting any job as a newbie may get a little rocky. You need to develop a strong mindset and gas yourself up during the job-seeking phase of your tech journey.
Work on projects
Thing is tech is more of a results-oriented industry, so the experience employers seem partial to can be synonymous to projects you've undertaken.
If you're a coding sis, embarking on projects related to your field is always a good idea. You can refer back to these resources I shared earlier in this post for inspiration on what project to undertake or where to start one.
However, if you're a non-coding sis like me, it may get a little trickier. Your portfolio should consist of real-life projects you've undertaken. How, you ask, when you have no experience whatsoever? Depending on where you took a course in your prefered tech niche, you should have been introduced to different activities. Just like how Heels and Tech assign tasks on real-life projects to every student who take the courses up on our website.
Polish your CV
Work on your LinkedIn Profile
Apply for jobs
Once you've got projects and CV off your to-do lists, it is time to take that leap. Apply for those jobs. I shared a few sites that quickly ping you as hot tech jobs roll in earlier in this post. Yes, including those that prioritized years of experience in your field. Thing is your self-confidence matters as much as your competency when looking to break into tech. That is why we provide all-round mentorship here at Heels and Tech for all our students. We've been there and we would like to support you in this phase.
Ace your tech interview
So, you got an employer's attention? Yippee!! Way to go! Just a step left to getting that seat at the table. You need to ace that interview with your potential employer. You can listen to this podcast where I shared proven secrets of a successful tech interview. I shared all the deets on common questions employers ask and how to answer them the fab way.
Take Me Back to the Table of Contents>>
Summary
Phew! That was a lengthy one. Here's a menu of all the recipes shared in this post:
Best Learning resources for Coding Languages
Best Learning resources for non-coding tech jobs
Where to find tech jobs
How to get into the tech industry with zero experience
Parting Message
You can be a techie with or without experience and the learning resources shared in this post will propel you right into the tech space. Break into that tech field you have your eyes on, take space and level up. We are forever cheering you on.