Busola's Inspiring Tech Journey: Transitioning from Finance to Tech
October 14, 2023
2023-10-14 20:14
Busola's Inspiring Tech Journey: Transitioning from Finance to Tech
Busola's Inspiring Tech Journey: Transitioning from Finance to Tech
Have you ever dreamed of embarking on a new career journey, shifting gears within the same industry, and making a significant change in your professional life? Meet Busola, a determined individual who, despite lacking a tech background, aspired to transition into the ever-evolving world of technology.
Busola had been a dedicated professional within the financial sector, working diligently in her role for years. Yet, the desire for a fresh challenge and a career shift began to simmer within her. She longed for an opportunity to explore the vast possibilities that the tech industry had to offer.
This burning passion led Busola to explore avenues for making her career transition dreams a reality. While she may not have had a tech background, her enthusiasm for the field was undeniable, and she was determined to find a way to break into the tech world.
In her quest for guidance and the right platform to support her journey, Busola reached out to Heels and Tech, driven by the hope of finding the tools and knowledge she needed to pivot her career toward tech. The door to her new adventure had just begun to crack open, and Busola was ready to step through it into the exciting realm of technology.
How Busola Discovered Heels and Tech
Back in December 2020, Busola found herself at a career crossroads. She had spent years working in the finance industry, wearing different hats as a Banker, Sales Specialist, and Data Processor. But beneath the surface, a strong desire was brewing—to step into the world of IT Business Analysis. It was a dream she couldn't ignore any longer.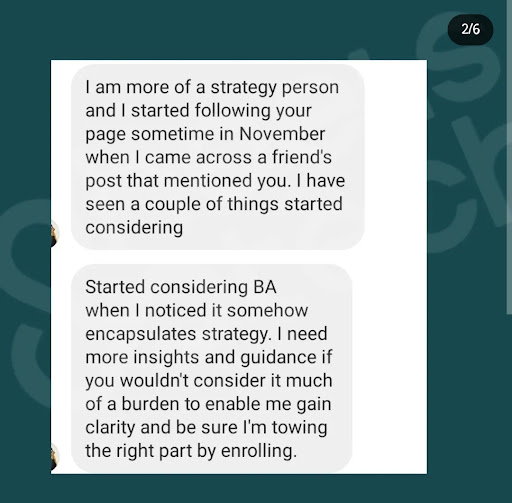 Eager and enthusiastic, Busola decided to seek answers to her career dilemma. She wanted to know if Business Analysis was the right path for her, given her background. So, she reached out to Heels and Tech, hoping to find some guidance and clarity.
At Heels and Tech, we understand that choosing the right career is a big deal. Busola's inquiry didn't go unnoticed; we were right there to help her navigate her way. Through conversations and discussions, it became crystal clear that Business Analysis wasn't just a dream for Busola; it was a practical and fulfilling career choice.
Empowered by the insights she gained from Heels and Tech, Busola made a life-changing decision. She decided to embark on her journey to become an IT Business Analyst. But she didn't stop there; her determination drove her to enroll in not one, but two courses—Business Analysis and Salesforce. Busola was all set to embrace this exciting new phase in her career.
Her Learning Journey
Busola's tech journey with Heels and Tech kicked off in January 2021 when she officially enrolled in the Business Analysis (BA) and Salesforce courses. As a student, she didn't just sit back and absorb knowledge; she actively applied what she learned from her BA class.
One notable highlight was when she volunteered to take on a project using the skills she had acquired in Business Analysis. Her work was not just good; it was so impressive that it became irresistible. Busola's mastery of Business Analysis and Salesforce accelerated at an impressive pace.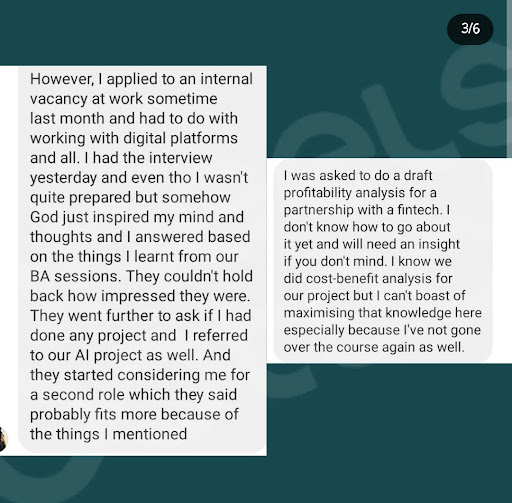 By November 2022, Busola was not just a student but a proficient practitioner. She was actively participating in interviews, and Heels and Tech was right there, guiding her every step of the way. We provided her with invaluable insights on how to ace interviews, revamp her CV, and position herself as an attractive candidate for potential employers.
Then came February 2023, a month of celebration at Heels and Tech. We had some big news to share, and it was none other than…
She Got a Job!!! Busola's Dream Becomes Reality
Busola's dream indeed came true! With excitement in our hearts, we are thrilled to announce that she secured a job with the very same reputable financial institution where she had been working. Her determination to upskill and transition into the role of an IT Business Analyst paid off in a big way.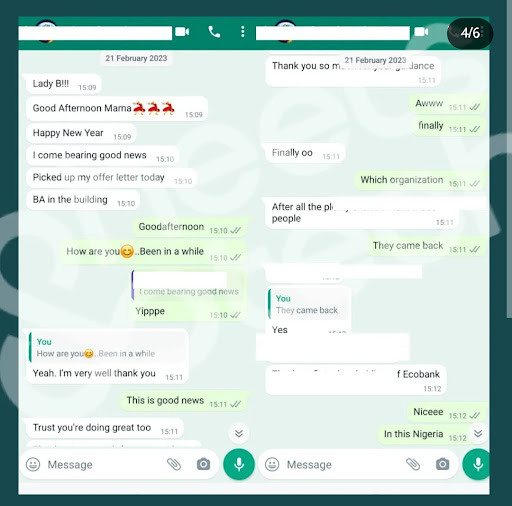 As Busola made strides in her tech journey, we stood by her side, providing unwavering support and guidance every step of the way.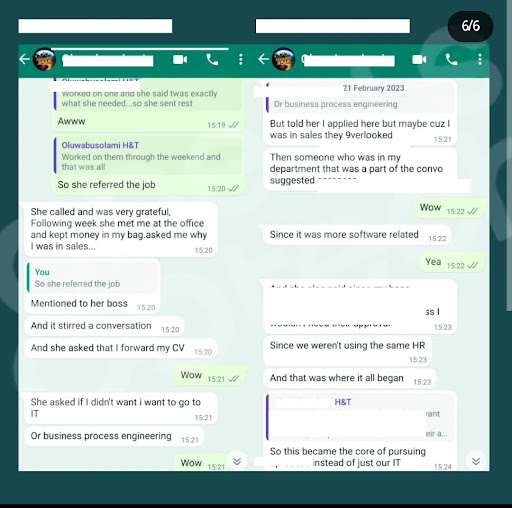 Her dedication and hard work played a pivotal role in her success story, and we couldn't be happier to have been a part of it.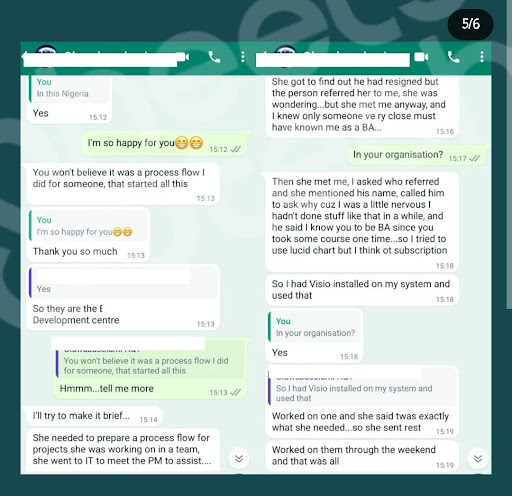 Busola's journey is a testament to the transformative power of education and the incredible potential within each of us. She demonstrated that with the right mindset, determination, and a supportive community, anyone can achieve their career aspirations, even if they are looking to switch paths within the same organization.
We celebrate Busola's achievement with immense joy and pride. Her journey serves as an inspiration to all, reminding us that it's never too late to pursue our dreams and make a career change, especially in the ever-evolving world of technology.
You Can Do It Too!
Do you aspire to move up the career ladder within your current company? It's not just a dream; it's an achievable goal. All you need to do is invest in upskilling. Look around for opportunities to enhance your skill set, and position yourself for that perfect opportunity that will propel you to greater heights.
Remember, you don't have to embark on this journey alone. We're here to support you every step of the way. At Heels and Tech, we specialize in making career transitions into the tech industry seamless. Our experienced tutors are ready to guide you through your chosen course, ensuring you gain the knowledge and skills needed for success. Plus, we offer mentorship programs to provide you with invaluable insights and advice.
So, what are you waiting for? Take the first step towards your career advancement by enrolling in our Business Analysis course or Salesforce course today. Explore our course catalog to discover other exciting opportunities that await you.
Your dream career is within reach, and Heels and Tech is here to help you turn that dream into a reality!