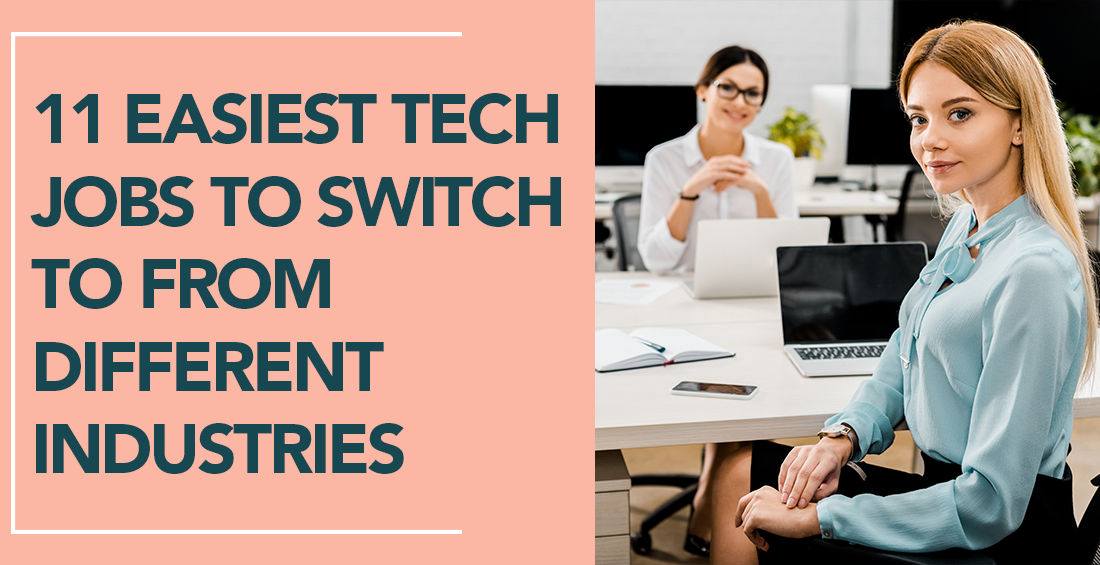 11 Easiest Tech Jobs to Switch to from Different Industries
We've all heard the news, which is Tech is the new oil. And with the constant million/billion dollar investment rounds making the news and startups springing up solving everyday problems with technology, this industry is clearly the hottest right now, not just in Nigeria, but globally.
So how do you get a slice of the pie? Thinking of moving from your not-so-hot industry or background to tech but currently struggling with how you can fit in with your non-technical background/skills? That's a question a lot of ladies like you always ask, so you're definitely not alone.
In this blog post, we've outlined 11 of the best tech jobs for career changers like you. Whether you're switching from healthcare, finance or whatever industry into tech, there's something for you in this post (plus resources to make your transitioning smoother).
Let's get into it.
Law to Tech-GDPR Legal Counsel/Tech Policy
If you've already got a law degree but you are now interested in tech, legal counsel or tech policy are two good areas that you could specialize in.

As a legal counsel, you'll be working side by side with the product managers from product ideation to the point of execution. While tech policy lawyers are responsible for creating rules and basic policies that protect users of certain products.

Think of when accounts get suspended on Twitter for violating its rules against things like sexual misconduct or bullying, the tech policy lawyer is the one in charge of creating such rules in the first place, protecting all users of a product.



Pearlé Nwaezeigwe spoke to us about her journey to tech law and the various opportunities for lawyers in tech.

Some other ways you can function as a lawyer within the tech industry are as In-house Counsel (in a tech company) or external counsel to a tech company. Read more on this here.
Psychology to UX design
As a UX designer, you need to design applications that can retain users. Your skills as a psychologist will come in handy as you can easily assess the user's thought processes.
Psychologists are great communicators so you can easily communicate your ideas to your team and the end-users.
Resources to get you started as a UX designer:
You will need to acquire hard skills like design thinking and research amongst others which our course provides you with.
A Beginner's Guide to Getting Started in UX Research by Lade Tawak, a UX researcher at Google
Hospitality Management or Customer Service to Engagement Management
As an engagement manager, you're responsible for making sure the client is well catered to after signing their contract. You'll be tasked with making sure clients have a good experience of the product, helping them fix whatever issues they may have, responding to queries and also managing billings.
For example, imagine you pay for a new savings tool. An engagement manager can be assigned to you to help make sure you're well equipped with knowledge on how to use the tool and help you along the line. As someone who has worked in hospitality or customer service where you have had direct contact with clients and solving their needs, this is a suitable tech role for you to transition into.
Watch Tobe Nneji, an Engagement Manager at Amazon, share her experience and how she transitioned from an OAP to an Engagement manager.
Chemical Engineering to Product Management
Product Management is booming at the moment. I know people who grabbed the basics of product management in six months and got great jobs at Tech startups. Engineers are trained to fit into almost any space. You are a problem solver and your critical thinking skills make you an efficient manager. As a product engineer, you will need to acquire marketing skills to complement the hard skills you have as a Chemical Engineer.
Check out this perfect introduction to product management to set you on the right track.
Finance to Fintech
With a degree or background in finance, there are so many opportunities open to you in tech with Fintech being the money-making machine in the Tech space at the moment. With your degree, you can rule the Fintech space by becoming familiar with emerging technologies such as cryptocurrency, cloud computing and blockchain.
You can choose to work as a technical writer or researcher specialising in FinTech news only.
Resource: how to make your career in FinTech
Creative Arts to UI Design
As a UI designer, your designs will be valued in the tech space because every product or software needs your creativity and eye for appeal on their team. Your responsibility here will be to create a visually appealing product users love at first sight; from the CTA buttons to color schemes,typography, etc.
Unlike in UX design where the focus is on how the user experiences your product, UI design is focused on the appearance of said product, something your creative arts background has equipped you with skills for.
Most companies rather than hiring one, go for a designer skilled in both ux and ui which is why our joint and hands-on course taught by top professionals in the field, is a great start.
Pure Sciences (Mathematics, Chemistry, Physics) to Data Science.
Data is like air – we all need it – especially in tech.
You can easily transition into tech by applying your scientific knowledge to problems around you, this time with data. With a tool as simple as Microsoft Excel, you can analyse and visualize data collected about a specific problem in your domain. Build a portfolio of projects you are passionate about and set out to secure your bags in the tech space.
A major aspect of Data Science is data visualization. Microsoft Power BI is a business intelligence platform for analysing and visualizing data. You can transition from Pure Science to Data Science by mastering the act of visualizing data with Microsoft Power BI.
Heels and Tech has a beginner-friendly and interactive course on Power BI to get you started.
Nursing and Customer Care to Sales Management
One of the important qualities of a great salesforce administrator is empathy and desire to help others, something your degree and background in either nursing or customer care would have imbibed in you. Thus, a salesforce is one tech job that'll be easy for you to transition into.
A Salesforce Administrator's job revolves mainly around solving customer problems. See how Wosilat, one of our past students, describes the role in her review of our training.
Alexius, a Salesforce Administrator at Hootsuite shared with us how she transitioned from customer care to Salesforce Administration and now earns 6 figures on the job. Watch that, then get certified with our Salesforce CRM course.
Microbiology to Front end development
After studying microbiology, what next?
Front end development is a tech field you can explore. Learn the basics of programming and build yourself up from there. Your scientific background will make it easier for you to understand the gradual process of building algorithms.
Ire Aderinokun, co-founder BuyCoins and a front end developer created this frontend development learning guide to help you.
Human Resources Management to People Operations
Every company needs a Human Resources department and Tech doesn't exist in a vacuum.
Just as in any other industry you would be responsible for hiring and recruiting talent and managing worker relations, the same applies in tech. The only (major) difference is a cooler name and chances of a better salary.
Interested in what Forbes refers to as 'Human Resources 2.0'? Check out this article that explains more about the role.
Anyone to Customer Support
This very important tech job is one that several people have termed the easiest and best way to enter the industry, and even work your way up.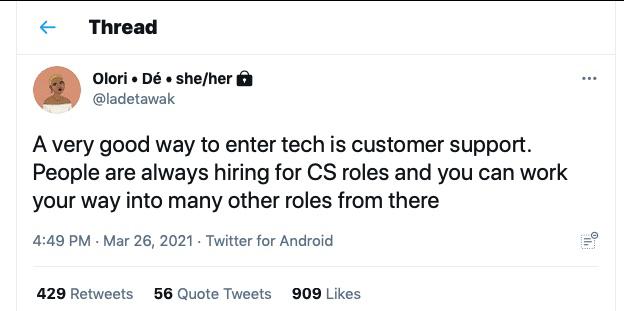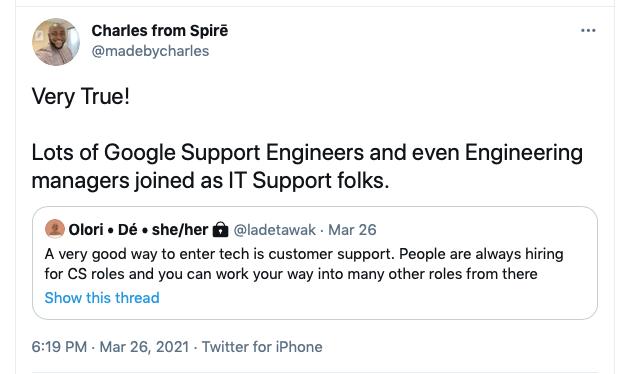 Your role in this position will include responding to customer queries/complaints in a timely manner, helping them use specific features of the product, and many other responsibilities that involve close professional relations with the companies customers.
Most customer support specialist job descriptions will require you to be empathetic, have excellent listening skills, and good practical knowledge of the use of CRM tools.
How do I train to be customer support staff? What courses should I take?
One of the courses we offer, is the Salesforce CRM course which educates you in the use of the most globally recognized CRM tool you'll need to succeed as a customer support staff.
Conclusion
Regardless of what industry you're currently in, switching careers to tech is a possibility for you. No you don't need to code to be in tech, no you don't need an IT background or computer science degree.
All you need is to find the role that best suits your existing skills and fits your career goals, then get equipped with knowledge needed to excel, and you're good to go. That easy.
Check out these 17 non-coding jobs in tech to see what more career change ideas exist for you in this field.