Top 10 Most Successful Indian Women In Tech
July 20, 2022
2022-07-20 16:25
Top 10 Most Successful Indian Women In Tech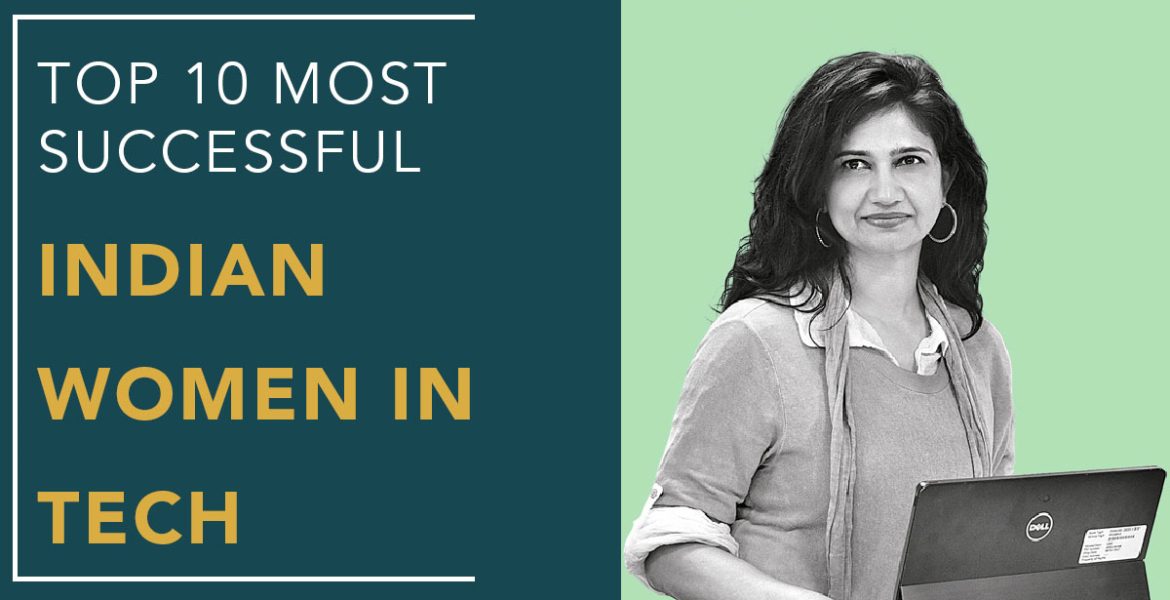 Top 10 Most Successful Indian Women In Tech
While the world of women keeps burgeoning with great feats and strides, the women fold have deliberately resisted the seeming oppression thrust at them as they carefully etch their names in the sand of time. This stride has sprung into the world of technology as they are resilient to gradually share the dominance ratio in equal halves with their male counterparts.
Data after day, women are slowly gaining traction in this field with a few notable figures emerging as global standards. This list includes Indian women in tech who have made a name and also great inventions in the tech world.
From building smartphones to developing software, flying in Space to challenging the depths of the ocean, women in the 21st century of digital have successfully risen above every cliché not only in the field of technology and science but in every walk of life. Succinctly, we can as well say that throughout the globe, the gap between women working in IT is much smaller than that of men, but regardless, in the Indian context, the efforts towards empowering women in the IT sector are showing results.
Following a recent study by Open University which had a partnership tie with Indian IT trade association firm, NASSCOM, the partnership found out the understated fact that India tops the list in terms of women in IT with a higher percentage of women in tech at (35%), far more than their female counterparts in the UK which ranks at (17%) and the US which is reflective of (20%).
Below is a list of some Indian women who took a spot in the tech industry.
POOJA RAO, CO-FOUNDER AND HEAD OF QURE.AI
First on the list is Pooja Rao who is the Founder of Qure.ai. Qure.ai is a Mumbai-based healthcare start-up which has affected lots of lives. Pooja doubles as a doctor and an AI scientist. As at the time when thoughts of gearing for a healthcare start-up lingered, she figured out that it was the best time to change the status quo in the healthcare industry.
Pooja works closely with partner medical institutions and AI scientists to strike a balance between medicine and tech at Qure.ai. Qure.ai was founded in 2016 with a mission to use AI to make healthcare more accessible and affordable.
LinkedIn: Pooja Rao
PUNEET KAUR KOHLI
Putting the spotlight back on the stage, presents Dr. Puneet who has successfully covered a track record of 23 years plus of experience, having extensive knowledge in developing and implementing strategic plans and addressing company needs with promotional growth plans.
She's involved in the Creation of strategic IT annual and long term roadmap with a focus towards generating new revenue streams through innovation. Puneet has worked in several well know organizations like Motorola, Reliance, Duncans, Carrier Aircon, UK Land Investments, Bharti Airtel Limited, Soma Networks and Motricity.
UPASANA TAKU, CO-FOUNDER OF MOBIKWIK
Going forward, Upasana Taku stems as the Co-founder of Mobikwik and Founder of Zaakpay. Taku has been able to achieve quite a number of reaounding feats, one of which is that she secured a B.Tech degree from the National Institute of Technology, Jalandhar in Industrial Engineering. In a bid to lengthen the courts she ended her education by completing her master's degree in Management Science and Engineering from Stanford University.
The Co-founder embarked on this sage in the year 2009 to make payments easier through mobile phones. Presently, the app stands as India's largest independent mobile payments network that connects over 30 million users with 75,000 retailers. Other distinct feature of this app includes the ability to allows users stop at their favourite shop. People can pay bills, recharge, send money and accept payments with one-tap.
LinSALONI VIJAY
The list tops up with Saloni Vijay. Saloni played an amazing role in driving the biggest ever project of setting up the Data Core Network of Telecom for the western region of Vodafone as at the period when mobile internet made little strides in Telecom. Putting up as a science graduate and Masters holder in Computer Applications, Saloni joined Vodafone as a G.E.T and soon became the Regional IT Head in Vodafone Idea Ltd.
At present, Saloni heads the IT Operations and Business Deliveries for the eastern and western parts of India. Being an IT professional, Saloni comes with 19 years of experience in operations, Project Management, Solution Delivery, Application Design/Development. She is also experienced in Digital Transformation, cloud, IoT & Big Data, ITNIKI
KHOKALE, CEO AND CO-FOUNDER OF FOUNTAIN9
Niki Khokale doubles as the CEO and Co-founder of Fountain9. Prior to her profound interest in starting a company, Niki worked as the head of strategy and analytics at Google. Crowning her years of excellence, Niki has experience working with companies like American Express, Sears Holding Corporation and others.
With dauntless moves, Niki aspires to build a company that truly stands for doing well in the world and solving problems that matter even as Fountain9 is building AI-powered enterprise analytical products which will automate knowledge discovery and democratize analytics, helping companies extract more value from their data to reach their full potential.
LinkedIn: Niki Khokale
GEETHA KANNAN
Living up as a renown leader and self compelled to make tech, a norm for all women in India. Geetha's vision has been to holistically provide high quality, integrated and accessible resources with an intent to avail equality of outcomes for women and their network supporters in technology through Wequity.
Geetha's work on equity for women started back in 2006, where she envisioned and implemented the early stage women enabling policies and the first-ever Women in Tech conference with the sponsorship of Infosys. With over 30 years of global experience in growing businesses, technology, and people, the elite's focus has always been to raise the bar, build strategic teamwork, as well as drive far-reaching impact.
ANISHA SINGH, FOUNDER AND CEO OF MYDALA
Anisha Singh, is a Delhi-based entrepreneur who is regarded as a lady of no mean repute. She acquired an undergraduate degree from the College of Art in Delhi and further interned with the Discovery Channel where she met someone who had studied Political Communication.
Being inspired by the Oasis which played off, she applied to the American University for Masters in Political Communication. She met Julie Holdren, a women who she owes some credit with regards to her success. Anisha is the Founder and CEO of online coupons platform, Mydala.
LinkedIn: Anisha Singh
FALGUNI NAYAR, FOUNDER OF NYKAA
Being attracted to the scope of beauty and skincare products online, Falguni steered herself towards Nykaa which has emerged as a platform that has fulfilled customer's expectations. Falguni is the Founder of Nykaa, one of India's biggest online fashion and lifestyle portals and since 2012. Nykaa has emerged as India's largest omnichannel beauty destination with millions of happy customers in the country.
LinkedIn: Falguni Nayar.
ANU ACHARYA, CO-FOUNDER AND CEO OF OCIMUM BIOSOLUTIONS
Anu Acharya is the Co-founder and CEO of Ocimum Biosolutions which is a leading integrated genomics company providing comprehensive Genomic Reference Databases, Life-Science Lab, Information management Solutions, GLP compliant Microarray Services and essential research consumables.
Going forward, Anu is also the CEO of Mapmygenome. It is India's pioneering personal genomics company which has a vision to touch 100 million lives. Since founding the Ocimum in 2000, Anu has led the company through three strategic international acquisitions which includes two capital raises for equity investments and the launch of several innovative products, solutions and services through its proprietary platform called RaaS ( Research as a Service).
LinkedIn: Anu Acharya
RADHIKA GHAI AGGARWAL, CO-FOUNDER AND CBO OF SHOPCLUES
Radhika Ghai Aggarwal is the Co-founder and Chief Business Officer (CBO) of ShopClues. Being an inept Indian entrepreneur who established a digital marketing place, Radhika Aggrawal dropped the shutter of her advertising agency to pursue an MBA from Washington University in 1999.
As it stands today, ShopClues.com is India's first online Management Marketplace. It connects buyers and sellers online and offers a trusted online shopping environment.
LinkedIn: Radhika Ghai
YOU TOO CAN BECOME THAT POWERFUL TECH WOMAN OF YOUR DREAMS!
You can be what you want to be, don't forget that! We're sure that if you work hard, you would be really surprised by how smoothly you'll transition into tech. Like these set of Indian women who began their career in tech. Some may have started it casually but the results stays big today. After reading this article, the next step you take is what matters the most. That is buying our easy course offerings, prepared exclusively for you.
Ready to gain the right tech skill to Kickstart your career as a techie? We're right here for you! Enroll in any of our amazing courses and get on with it already. Click here to check it all out.