Top 15 Most Successful UK Women In Tech
August 13, 2022
2022-08-13 16:53
Top 15 Most Successful UK Women In Tech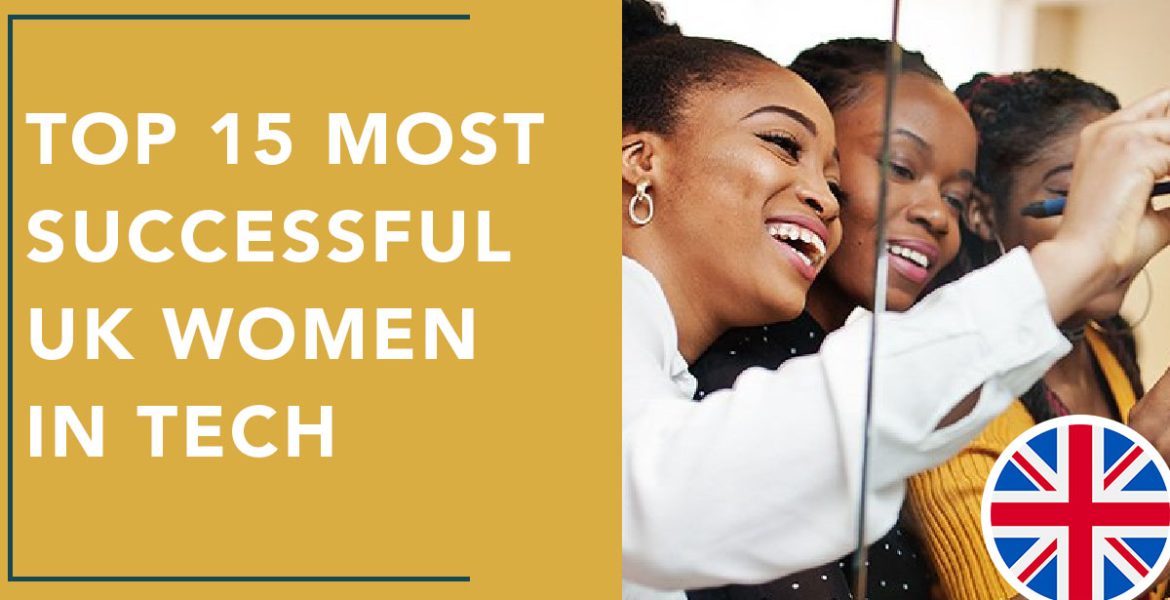 Top 15 Most Successful UK Women In Tech
According to research, it has been found that only about three percent of women choose career paths in technology, five percent of these women hold leadership roles in this sector and factors of these problems stem from issues of discrimination and race. It has taken over forty percent.
Despite these, some women have begun to take interest in the tech world and to the surprise of many and also the happiness of others, they are doing a pretty good job. This article is going to focus on women in the United Kingdom who are part of this change.
Sarah Armstrong-Smith
Sarah guides businesses from digital attacks and teaches organizations how to protect their data. She is the Chief Security Advisor for Microsoft and has deep insight into technology and security which is a major breakthrough in the tech world. Sarah gives valuable advice on cybersecurity strategies and ensures stronger defenses against digital hackers. She also specializes in disaster recovery, crisis management and female representation in STEM. Sarah is passionate about uplifting women in STEM industries and has been recognized as one of the top influential women in tech, in the UK.
Poppy Gustafsson
She is the CEO of cyber security and AI firm, Darktrace, whose aim is to use AI to prevent firms from suffering cyber attacks. Poppy is seen as a champion of gender diversity in the male-dominated tech world as she has succeeded to become an icon. She is a mathematician and a qualified chartered accountant who have previously served as a chief financial officer. She's an icon most women look up to when it comes to female diversity in the digital world.
Flavilla Fongang
Flavilla is the founder of 3 Colours Rule, a branding and marketing agency that has won many awards, a neuroscience expert and an author. She has written books that feature stories of African American women who serve as inspirations to high school students. Flavia is the brand advisor chosen for BBC and provides brand strategy advice. She hosts the Tech Brains Talk podcast which provides insights to tech entrepreneurs and companies. She strives to give a voice to black women to enable them to have a seat at the table of technology.
Naomi Timperley
Naomi is an experienced consultant who has extensive experience working with startups and growing businesses particularly in the tech, digital and creative sectors. She has been a mentor for business for over eight years and has passion for companies with growth potential. Naomi is also the co-founder of Tech North Advocates and is considered to be one of the top 50 women in Tech in the UK. She helps companies and businesses grow through strategies and development plans.
Charlene Hunter
Charlene is a software developer and founder of Coding Black Females- a network for black female software developers. Her nonprofit organization is set to inspire, provide opportunities, and portray the talents of black women in tech. She is passionate about representing black people in tech and is part of a community that helps bring developers together and code together.
Suki Fuller
CEO of Salaam Ventures and Founder of Miribure, Suki's ability to bring people together is what makes her position in the tech industry so unique. She is seen as an analytic storyteller and an advisor. She has a wide network and a good sense for opportunities, a combination that makes her an amazing sought after connector. Suki is a keynote public speaker who is a valued asset to tech teams that require good business advice. She uses her intelligence company to give qualitative insight to business owners. Fuller has almost twenty years experience as an intelligence advisor.
Sarah Turner
She is the CEO and cofounder of Angel Academe- an investment group focused on technology that is pro-women and pro-diversity. Sarah has spent most of her career working in digital technology. She encourages women to become angel investors in their early stage of tech startups. Sarah's company has backed up to thirty five businesses that operate in Fintech, software, health tech, etc. She has helped over seventy percent of women in their business startups.
Sharon Moore
Sharon is Chief Technology Officer for the public sector at IBM UK. She has focused on designing technical solutions for clients of IBM in the travel and transportation industry. Sharon aims to increase the number of women in technology careers by keeping fresh young talent and supporting women who return from maternity leave. She has over twenty years experience in consulting and outsourcing in different technologies. Sharon is passionate about innovation and hopes to transform the public sector with technology.
Eileen Burbidge
Eileen is a venture capitalist and a cofounder of Passion Capital, a firm that invests in firms like Monzo, Lulu, etc. She is a computer science graduate that has worked in companies like Yahoo!, Apple, Sun, Skype, etc. Eileen holds various high positions in the UK such as the Chair of TechCity UK- a British government-backed organization that supports digital businesses across the UK, Tech Ambassador for the office of the Mayor of London, etc. She is a woman of prominence who is held in high esteem in the UK.
Sarah Wood
Sarah Wood is the co-founder and co-CEO of a video ad tech company- Unruly, who ensures the company gives the most awesome and inspiring social video campaigns globally. She has been named as one of the most influential people in Britain and is known as an inspiring leader. She has always wanted to be in the center of the web revolution. Sarah practices what she teaches and thereby enforced it in her company. A very large percent of the workforce in her company are females. She hopes to bring more women into the engineering and science sector.
Claire Valoti
She is the Vice President and general manager of UK sales of Snap Inc (also known as Snapchat) and is overseeing the company's first office outside the US. Claire is leading growth & revenue across four continents and is set to help realize the potential of International markets at the same time continuing to scale those that are already realized. She is an innovation speaker and also an advocate for representation of women in technology. She paves the way for future STEM professionals. As a speaker, she talks on topics from female business to technology, making her an ideal addition to a wide number and scale of events.
Nicola Mendelsohn
She is a British advertising executive and is Facebook's most senior executive outside the US. She is in charge of the social network's presence in Europe, the Middle East, and Africa. Nicola has held posts on charities that work to prevent violence against women. She also founded the Follicular Lymphoma Foundation- a charity focused mainly on raising funds to help people living with Follicular Lymphoma to live and get well. Nicola also advocates strongly for work–life balance and flextime for women with families. She is held in high esteem as a woman in tech.
Sylvia Kang

Sylvia is the CEO of Quanovate. Quanovate is behind Mira- a tracker that helps women track their ovulation and fertility schedules. After witnessing some of her friends inability to get pregnant, Sylvia decided to leave her job. She used her biomedical degree to create a product that could track women's hormones and fertility cycles. Sylvia hoped to give women the accuracy of lab testing at home, and data easy to understand to help them make the best decisions. She has helped several women through this product, hormones have been balanced and fertility cycles have returned to normal.
Kate Unsworth
She is the CEO and cofounder of Vinaya which was formerly Kovert Designs- a business that makes connected jewelry. These jewelry buzz when one gets a message from WhatsApp or their emails or any other apps. She combines her technical knowledge with that of her eye for design and an understanding of the consumers to create collections of jewelry with embedded electronics that are hidden. She aims to empower people and reset their life balance giving them the confidence of remaining connected.
Joe Bertram
She was once the managing director of the top ride service in the UK- Uber. She managed the launch of Uber in more than forty cities and towns beyond London. Joe has experience of over eight years in management consultancy. She is currently the managing director of Virgin Media 02. She is one of the women looked up to as a person of influence in the UK.
Nothing is your limit!
Have you always thought of entering the tech world? Have you always thought of becoming like one of these women, doing great things out there and impacting lives? Nothing should stop you now that you have the longing!
HeelsandTech offers a variety of courses that can launch you into this world you see and hear so much about. We can help you get to that height you want to attain. Enroll for any of our courses now and get started!
Let's go!!!