Top 15 Most Successful UAE Women in Tech
August 13, 2022
2022-08-13 16:01
Top 15 Most Successful UAE Women in Tech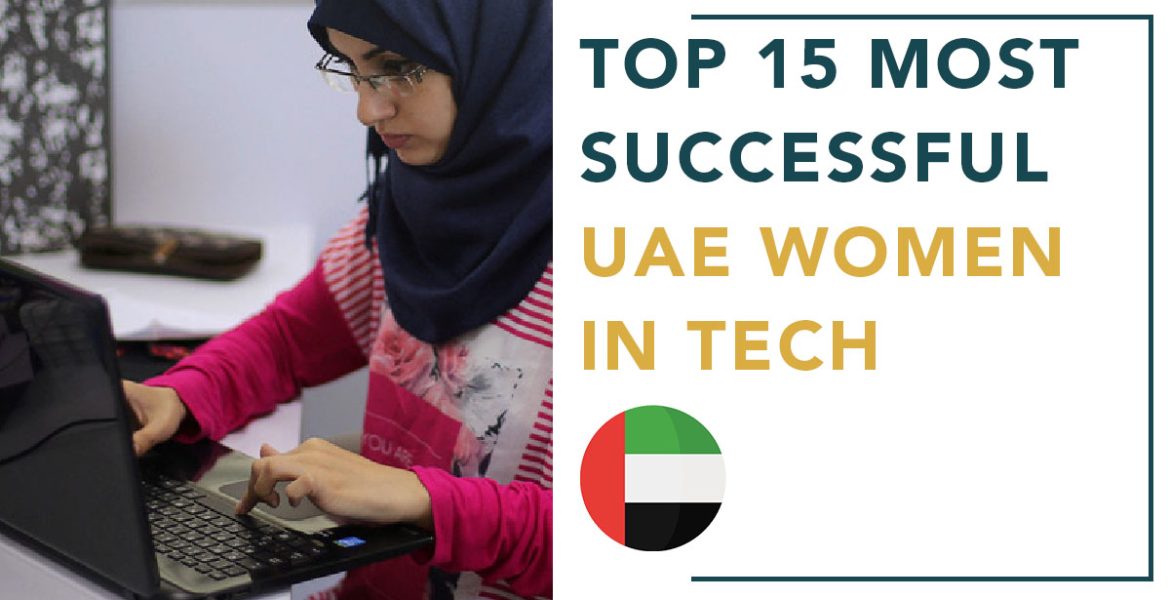 Top 15 Most Successful UAE Women in Tech
The UAE has become home to most successful tech businesses founded by Middle Eastern women. These women are taking leading roles in this industry at an alarming increasing rate but are also setting up theirs. They have gathered the attention of sister businesses and are reaching almost every part of the Middle East. The UAE has also made some progress in treating women with respect.
Let us take a slightly detailed look at some of the women who are contributing to the status quo of technology.
Ambareen Musa
Ambareen ventured into the Fintech sector and is the founder of Souqalmal. The company allows customers to compare their finance products such as bank accounts, insurance, personal loans, etc. Ambareen led the first online financial literacy program in the U.K. She has been in the business of online services right from the age of twenty one. She is seen as a leading woman in the UAE.
Nadine Mezher
Nadine is the co-founder of Sarwa- a Fintech platform that advises on investments small businesses can take. She has experience in consultancy, marketing and retail strategy. Nadine also has experience in management strategy and communication through brands. She keeps tracks of investments for great returns for the young professionals whose lives are fast paced. She helps to enable people's money work for them.
Mona Ataya
She is the CEO and co-founder of Mumzworld. She created this online marketplace for moms to be able to shop for their baby and children's things. Her company is the first of its kind in the Middle East and she co-founded it with her partner who never fails to be mentioned too- Leena Kahlil. Over 2.5 million women have been connected through this platform and more than three hundred thousand products have been sold for parents and children.
Dana Baki
Dana is in the sector of food delivery. What she did was to launch a food app, Munch on, that now works with more than four hundred restaurants in Dubai and delivers nationwide. Dana and her team put their focus on lowering the price of ordered meals thereby making restaurants more efficient. They believe it solves the problem of overpriced meals and inefficient service. Dana is someone with a growth mindset who didn't know anything about the world she was entering but made up her mind to be successful. She is now recognized as one of the successful business women in the region.
Ola Younis Doudin
Ola focuses on crypto trading and she has developed a platform, BitOasis, where digital assets can be traded against the currency. She is number 4 on Forbes list of successful women in the Middle East. Education had always been a priority in her family but she also had to make the move and push into being what she is today as her mother valued stability over business creation.
Sarah Toukan
Founder of her platform, Sarah is one of the women in the Fintech world. She created the app, Ziina, that enables users to send and receive money or payments only with the use of a phone number and not any need for an international account number or a code. Her mission and objective is to simplify finance for everyone. Sarah is dedicated to female-led businesses getting onboard and as such, her platform targets women through marketing campaigns.
Ming Hu
Though originally from China, Ming has been absorbed into the system of the UAE. She is the co-founder of Women in Tech, Dubai- a platform that fosters education and community networking for women in STEM. It has more than six hundred members. Ming is also a software engineer and her passion is in building technological solutions.
Hayat Abu alhassan
Hayat is the founder of Sweech, an app and website that allows for easy mobility in the Middle East region. She is into product development and design and also a software engineer with a degree in computer science. She is focused on pushing boundaries to advance technology and entrepreneurship.
Noor Al Kamil
Noor founded an online platform that offers health insurance plans to people and small and medium scale enterprises- Sehteq. She creates a balance between finance and health. She has proven to be successful in anything she puts her hand in. It has been testified that she ensures patients spend as little as they can on their health while giving premium treatments. She is also the Chief Medical Officer of Sehteq.
Nour Al Hassan
A lawyer and an entrepreneur, Nour is the founder and CEO of Tarjama and Ureed.com. Tarjama is a technological language provider, which provides over fifty five languages across seven locations while Ureed.com is a freelancer and digital marketing platform that makes employment possible. Her company offers countless talented women opportunities to translate and create content from their homes.
Anuscha Ahmed Iqbal
With over fifteen years experience in investment banking and asset management, Iqbal has made a wave in the fashion industry using technology. She co-founded Spotii- a platform that makes available payment services for fashion, beauty, and lifestyle brands, enabling users to buy on credit and pay later without extra fees or interest. She is also the CEO.
Rita Huang Zhen
Founder of iMile Delivery Services, Rita provides logistics and courier services to companies that engage in e-commerce. She helps resolve last minute deliveries problems as well as cash-on-delivery. Rita is known as an unconventional visionary in the Middle East region and also a technology innovator & engineer. She is an action taker who had to learn everything about the industry before she could become successful.
Aisha Bint Butti Bin Bishr
She is the director general of the Smart Dubai Office- the entity in charge of the smart city transformations globally. Aisha is committed to digital transformations and technology development. She is the first female executive to globally lead the transformation and change of the smart city. She is an icon and role model to the youths.
Kinda Ibrahim
Kinda is passionate about the emergence of media and tech as well as tech businesses. She is the director of Twitter's media partnerships in the Middle East. Kinda is the leader of the team responsible for increasing Twitter's push for partnerships and contents. She has worked for giants in the tech industry such as Microsoft, Yahoo, etc. Kinda is also a highly recognized influential woman in the UAE.
Nayla Al Khaja
Nayla is well celebrated as the first female film director in the UAE. She is the founder and owner of a production company called D-SEVEN. Nayla continues to receive recognition for her innovative work in the film and production industry as she works relentlessly to represent social issues, women's rights, and other humanitarian themes in her films.
Too late? No!
Don't these women give you stirrings in your heart? You are not too young or old to make differences in this world, to make impacts. Even people that are eighty plus years are still making moves, what, then, about the youngsters?
Heels and Tech is here to help you get started! We are the first block that is put in the foundation laying of your tech career. How? Here are our courses that will help you get into that which will help your stirring come into reality. Check them out now!