Top 15 Most Successful Ghanaian Women in Tech
July 24, 2022
2022-07-24 23:30
Top 15 Most Successful Ghanaian Women in Tech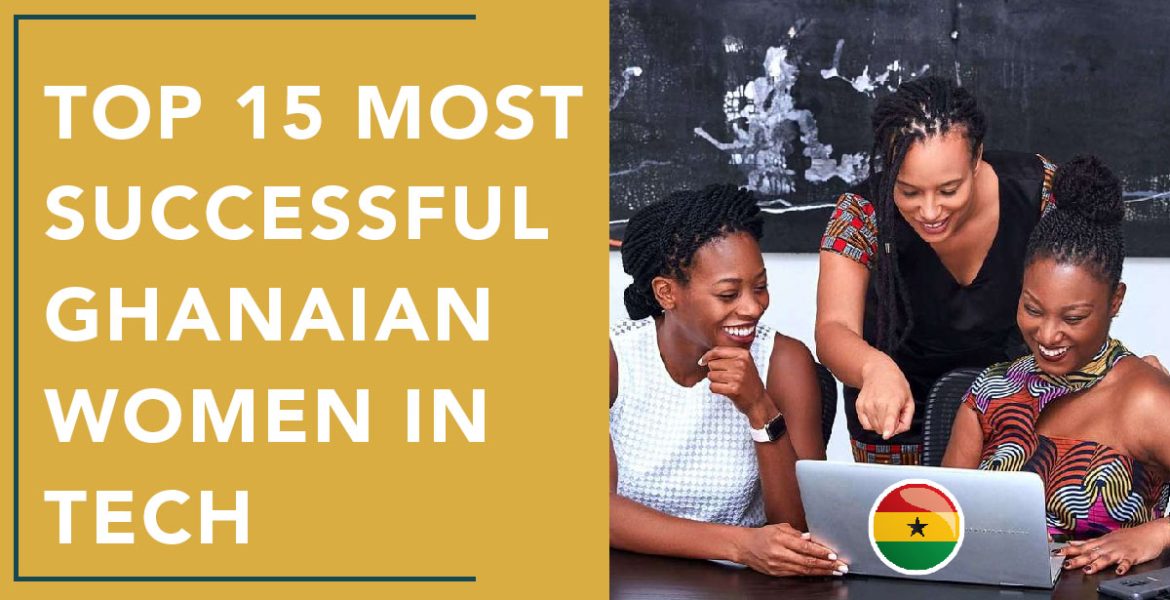 Top 15 Most Successful Ghanaian Women in Tech
Today, our spotlight would be on the 15 most successful Ghanaian women in tech, and their specific niches. The stories of successful women in tech have to be told. This will help give every woman out there the willpower to get into Tech and own it.
Meghan McCormick
Meghan McCormick is one of the top leading Ghanaian women in tech. She is the co-founder and CEO of a Fintech company named Oze. Oze, a brand that aims at helping Africans boost their business reach, and also get to access loans with ease. Over the years, she has also worked as a business accelerator, and innovation strategist. You would agree that business is a key part of the world's daily cycle. Business and finance tech is one aspect that can never be underrated.
Josephine Marie Godwyll
Josephine has always been passionate about giving back to society. Also, being part of the solution providers even as the knowledge of tech spreads. At the heart of this passion is her ed-tech organization, called Young at heart, located in Ghana. The organization focuses more on training and equipping children with tech-related skills. Most especially children from the low-income class or communities where such skills aren't prioritized due to lack of funds.
Emma Maame Efua Tandoh
A typical example of saying yes to girl power is Emma! Emma is the founder of Outspoken Edge, a brand that offers digital marketing services to other brands. Outspoken Edge helps them reach a wider and upscaled level. If you were thinking tech had to do with just programming, coding, and web designing.. then you thought wrong. Digital marketing and its diverse tools are an important part of the tech industry.
The more interesting part is that Emma's Outspoken Edge is a brand focused on female-owned brands as well. As more women were getting into business and tech, the need to create more avenues to smoothen their transition increased. It's great to see Emma do so much for brands in Ghana and Africa at large. Worthy of note is that the brand Outspoken Edge has also been a part of the Tony Elumelu Entrepreneurship Program.
Ethel Cofie
Ethel Cofie the founder, and CEO of EDEL Technology Consulting is a highly sought-after IT professional with over 15 years of work experience, having worked in the UK, Nigeria, and Sierra Leone in various organizations, and also as Vodafone's head of commercial solutions. Asides from sitting on boards of various companies across African countries, she founded Women in Tech, Africa, a platform that unites women in tech from over 30 countries. She has stayed successful in the tech business, created more impact, and is all about supporting more women in the tech field.
Anne Amuzu
Anne can be called a vibrant woman in tech, having studied Computer Engineering at Kwame Nkrumah University of Science and Technology, Kumasi, and has carved out her strong standing in the ICT sector. She is the co-founder of Nandimobile, a company that is popular for its provision of customer support and information enhancement for companies through mobile phones.
She also gives back to society by volunteering to teach young ones in Ghana how to code.
Farida Bedwei
Farida is a Ghanaian born in Lagos, Nigeria. Though diagnosed with Cerebral palsy, she can be said to be a definition of impossibility being nothing, as she has remained undeterred in her pursuit through life! She holds a diploma in E-technology and a B.Sc in Computer Science. As a software developer, software engineer, and computer scientist, and in her over 15 years of strong expertise, she is known well for her bright technological mind and innovations over the years.
Miishe Addy
With more than 12 years of consistent work experience in strategies, analysis, and legal transactions in various organizations, and in various countries, Miishe holds her forte, and she believes in the empowerment of the female gender by breaking the bias, all around. She is the co-founder and CEO of Jetstream, Africa.
Patricia Obo-Nai
Patricia, the beautiful CEO of Vodafone, Ghana is a commercial business mogul with over 20 years in the telecommunications industry. Having worked for various multinational tech companies, she has garnered a great wealth of experience. She believes and is committed to ensuring that women take their rightful place even in times of an increased industry.
Anita Wiafe-Asinor
Anita is the Founder and CEO of OML Africa. In her bid to break the bias that existed, she founded the group called Ghana Women in Business (GWIB). She is also the executive secretary of the E-commerce Association of Ghana (ECAG). She is a business tech expert and is going so well in the industry.
Rosy Fynn
Rosy Fynn is a strong business leader who has served in various managerial capacities in various firms. From Airtel's marketing director, Ghana, to Bima's managing director, Ghana, and CEO at Busy Internet. She currently serves as the Country head for Mastercard Foundation, Ghana.
Regina Honu
Regina has won several awards for the good job she has done towards the growth of Ghana's tech industry. She is the founder of Soronko Academy; an academy known as the first coding and design school strictly for children and young adults in West Africa. Regina has trained over 20,000 people and connected about 5000 of them to career opportunities. She passed on a chance to join the Microsoft team because she wanted to start her brand, and have other ladies learn tech and grow just like she did.
Ivy Barley
Another successful Ghanaian woman worthy of note in the tech industry is Ivy Barely. She is the co-founder and CEO of Developers in Vogue. This is a brand that assists African women in securing opportunities in the tech space. She is a program manager and an expert in Coding.
Lucy Quist
Lucy was formerly the Director of Vodafone Ghana, and then the CEO of Airtel Ghana. She made a name as the first Ghanaian lady to lead a multinational telecommunications company. Lucy is a tech expert and a pro in the telecommunication business. She currently serves as the Managing Director at Morgan Stanley.
Angela Kyerematen-Jimoh
Angela has over 20 years of experience as a sales and marketing expert in the tech industry. Of course, even the tech niche needs marketing experience, amongst other knowledge. Angela is currently the Executive Director, and regional head, of IBM West, East, and North Africa.
Paulette Watson
Paulette is the MD and founder of Academy Achievers. She has spent over 30 years gathering experience in the edutech niche. Even now champions the course of teaching, and ensuring that more females get into Web 3.0-related careers.
Be the Next Woman on Our List!
These women are a testament that whilst you are scared of taking the next step, women are out there breaking the barriers. They are also ready to support you through the transition. HeelsandTech is ready with materials, knowledge, and opportunities to help you grow.