Meet The Canada Immigrant Who Landed A 'Juicy-paying' Job As A Salesforce Administrator
March 23, 2022
2022-03-23 10:26
Meet The Canada Immigrant Who Landed A 'Juicy-paying' Job As A Salesforce Administrator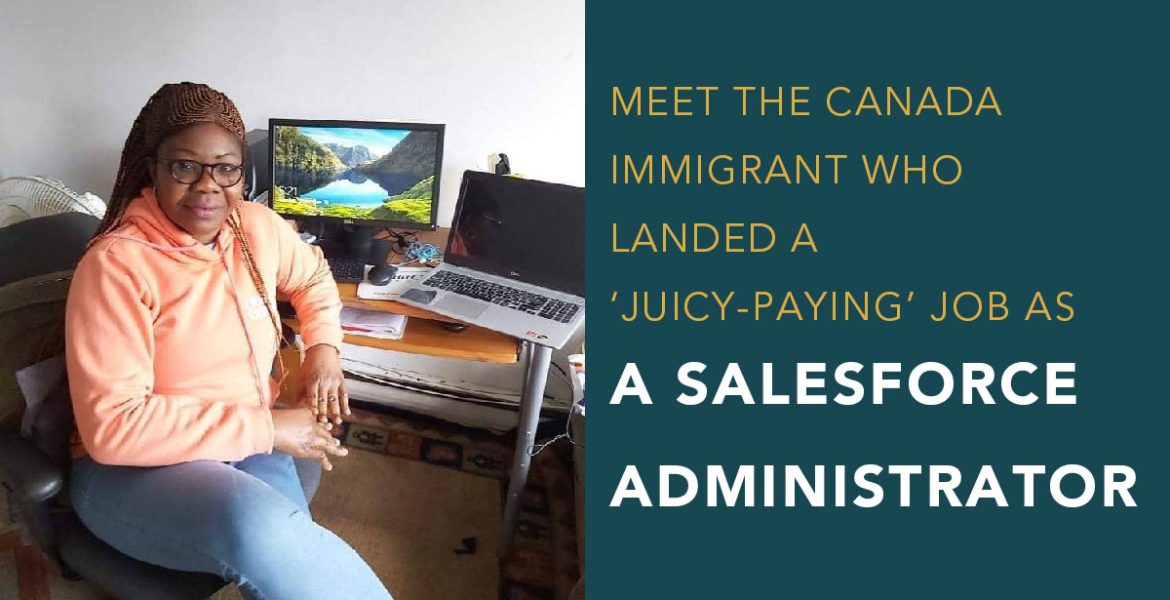 Meet The Canada Immigrant Who Landed A 'Juicy-paying' Job As A Salesforce Administrator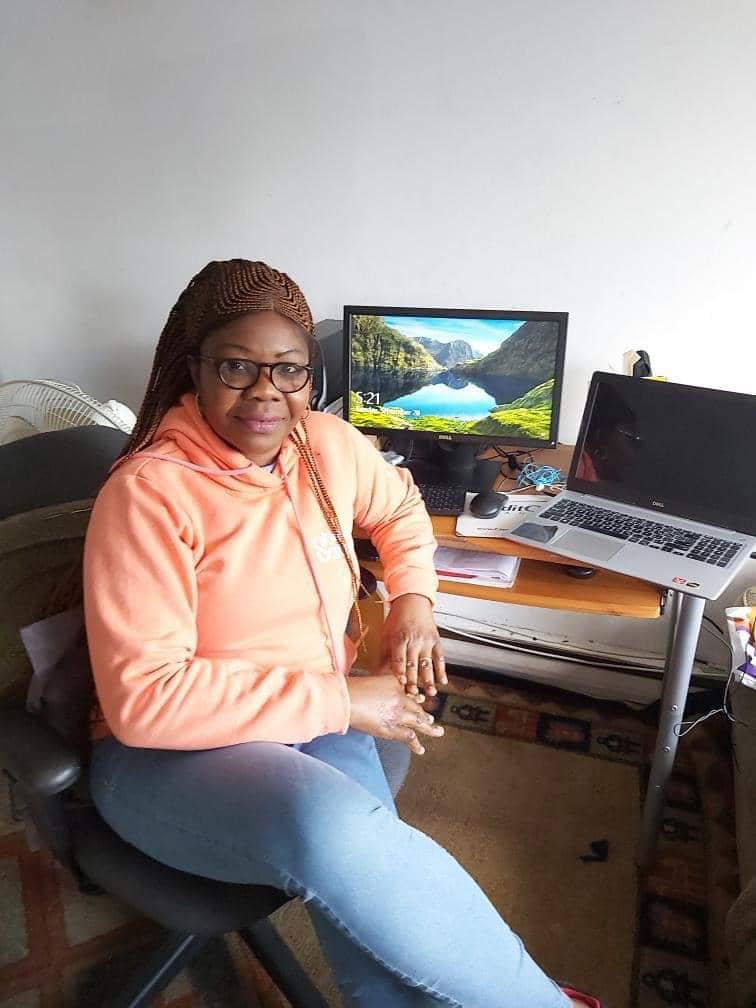 Have you ever been told you have to settle for low-paying jobs or become a nurse abroad?
Imagine leaving a great career in your country to start earning peanuts or something close to that in a country you immigrated to. That's just sad!
Starting a great career in a country you migrated to is possible if you pick the right profession, acquire the right skills, and meet the right people who can guide you through the journey.
In today's story, you'll be reading about an amazing woman who migrated to Quebec, Canada. She decided to pursue a career in tech and sought our help to make it happen.
We believe this story would inspire you, especially if you have just moved to a new country and you would like to build a career for yourself, or switch jobs. Continue reading to hear the whole story.
Meet Elizabeth, a Canadian Immigrant
Are you an immigrant? Then you'll relate better to Elizabeth's experiences as she sought a good-paying job. Even if you're not an immigrant you'll learn a thing or two from her story which would inspire you to build a great career in tech.
Elizabeth is a working wife and mother who moved to Canada with her family. With three amazing children and a loving husband, you can say Elizabeth was happy, but she wanted more. She wanted to build a great career for herself and not believe the well spread 'tales by moonlight' about sticking with a low-paying job just because she was an immigrant. She got a job as a customer service agent in Canada and then decided to transition into tech.
Because of her passion to grow and have a great career, as every woman should desire, she found Heels and Tech and messaged us about this dream of hers. So there is a lesson for our dear women readers, even the men too, chase growth and you'll catch it! Now, back to our story.
Before moving to Canada, Elizabeth had worked in Nigeria's Financial Service sector for 15 years. She studied Secretarial Administration and applied her knowledge and skills to nailing her career. Elizabeth has a passion for solving problems, so she worked as a Customer Service agent. Elizabeth had a really great career back then in Nigeria and she wasn't going to settle for less just because she had changed location.
We still remember the words of Elizabeth when she reached us, "Hi, am interested in registering for Salesforce and Business Analytics certification and want to find out how many hours per day and also to know if I will have to write a certification exam at the end and also to know the body that will issue the certificate." These were the words that marked the baby steps that led to something really great as you'll see.
"At the Beginning, it Seemed it Was Going to Be Tough…"
It is always like this when you start learning something different from what you are used to. Initially, you might feel you will not be able to pull through. You might think, "what if I fail?". Those feelings are perfectly normal, especially when you're using your last piece of courage to chase growth.
Elizabeth felt it was going to be difficult for her and we showed her how to take things calmly and achieve the best results in time. She shut up the voice of fear and forged ahead. In the end, she was glad she started the training and told us how much it helped her.
Here are her own words, "At the beginning, it seemed it was going to be tough and difficult for me to catch up. The fact that I was learning new things made it so interesting and educating. I had to put in extra hours to catch up with the class. Practicing the trails on a regular basis is such fun and ensuring that all assignments were reviewed before the next class really helped."
Elizabeth was able to fight her fears and went on with training. It paid off because, in the end, she transitioned into tech in a big way.
Elizabeth enrolled in the Salesforce Administrator course, and afterward the Business Analysis course. Read on to find out if she aced both courses.
Have you Met the Latest Salesforce Administrator?
Right about now, we will be introducing a new Elizabeth to you. Meet Elizabeth in all her glory, a beautiful, wonderful and amazing Salesforce Administrator. She didn't just complete her training, she got two job offers within one year (we can't reveal?), and is earning some cool cash!
When she got her first job, it wasn't exactly what she was aiming for when you talk about payment. It wasn't the 6 figure job but it was something Elizabeth was willing to take up pending when she landed a better job. She earned rich experience, enrolled in our business analysis course, and kept her eyes out for a bigger opportunity. Then guess what? She shared the great news! Elizabeth got a new juicy-paying job! She told us about it.
We'll share it with you too, "Big gist for u o. I got an offer for a Salesforce Administrator role without applying. The Hiring Manager chat me up on LinkedIn, sent me a Job description and it was stated that Salesforce Certification is mandatory, I quickly told him am yet to get my certification and he responded that he is
actually interested in my profile that if I am able to display confidence and skills that I can do the job, they can as well employ me then train me for the certification. That was how I attended the 1st and 2nd interviews which was Technical questions with a panel of both Salesforce Admin and Business Analyst in attendance, I was bombarded with so many questions, your girl leverage on transferable skills and the fact that am currently Salesforce end user showed them my worth, in the end, the Hiring Manager told me that they have other applicants they are still interviewing and that he will get back To me when they make the final decision."
Pretty long gist, uh?? If you like gist as we do, especially when it has to do with women rising and doing big things, please read on…
More on the gist, "Early this week, he chatted me up and stated I was the top applicant after évaluation, only for me to receive my offer letter yesterday, I could not believe it, my salary is double my current salary. They wanted me to resume by Monday so I asked them to give me 1 week more so I can resume work to notify my current employer. Thank u for the platform that made it possible for me to discover Salesforce."
Elizabeth was able to answer the interview questions correctly. It was literally a walkover for her. Do you know why? Because she enrolled for the Business Analysis course too! When you read about Elizabeth, don't you just see a woman who is passionate about growth? We do!
Right after that, she enrolled in our salesforce certification prep and she passed!
Hurray! Elizabeth did it and so can you. Our hearts were filled with joy when she shared this great gist with us. There is nothing you can't achieve as a woman if you put your mind to it.
You Can Be the Next Super-woman Salesforce Administrator!
What is stopping you?
Enroll in our Salesforce Administrator course and begin your journey to becoming a great Salesforce Administrator.
We trust that just like Elizabeth, you too can nail it! We can't wait for you to start living large. Click here to apply for the Salesforce Administrator course.