Heels and Tech and the University of California, Santa Cruz are Joining Forces to Build the Future of USA's Technology Sector 
September 6, 2023
2023-09-12 4:38
Heels and Tech and the University of California, Santa Cruz are Joining Forces to Build the Future of USA's Technology Sector 
Heels and Tech and the University of California, Santa Cruz are Joining Forces to Build the Future of USA's Technology Sector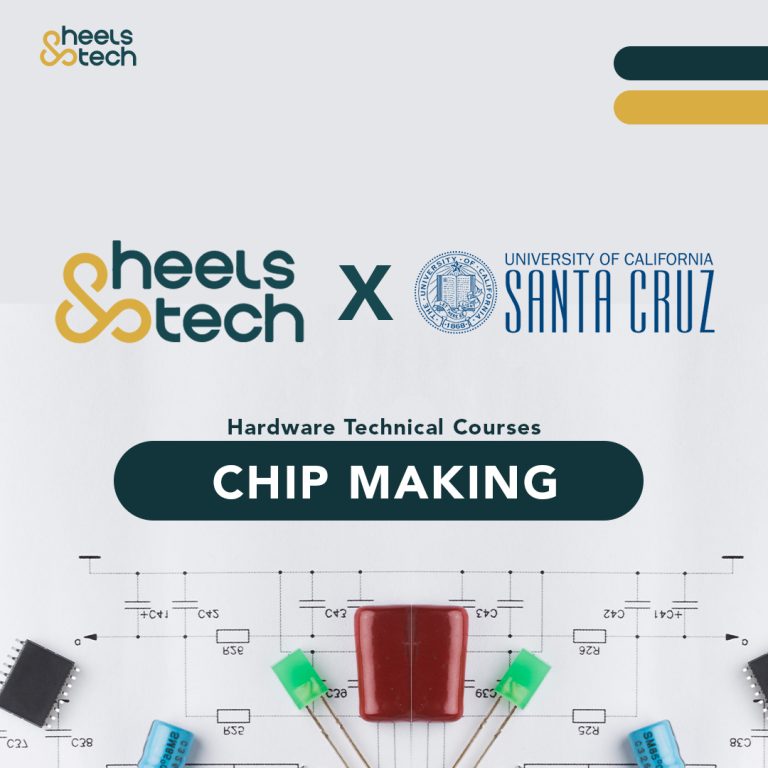 Heels and Tech is proud to announce that we are teaming up with the University of California, Santa Cruz to help individuals learn how to design semiconductors. This partnership aligns with the CHIPS for America initiative.
The "CHIPS for America" initiative is about the United States making more of its own crucial technology parts instead of relying on other countries. The countries the US depends on primarily for these technology parts are Taiwan, South Korea, Japan, and the Netherlands. These parts, called semiconductors, are like the brains of many gadgets and machines we use every day.
Semiconductors, or chips, are tiny electronic devices that are integral to America's economic and national security. These devices power tools as simple as a light switch and as complex as a fighter jet or a smartphone. Semiconductors power our consumer electronics, automobiles, data centers, critical infrastructure, and virtually all military systems. They are also essential building blocks of the technologies that will shape our future, including artificial intelligence, biotechnology, and clean energy
It is important to note that despite having invented the semiconductor, America only produces 10% of the world's supply today and none of the most cutting-edge chips. Instead, 75% of the world's production is dependent on East Asia. The CHIPS and Science Act will allow for hundreds of billions more in private sector semiconductor investment across the nation, including production necessary for critical sectors and the national defense. The law will also guarantee that the United States keeps up and expands its technological and scientific lead.
President Biden signed the bipartisan CHIPS and Science Act of 2022 into law. The CHIPS and Science Act commits $52.7 billion to support America's semiconductor industry. Among these allocations, a notable $39 billion is earmarked to incentivize semiconductor manufacturing, including $2 billion dedicated to supporting legacy chips used in automotive and defense applications. Additionally, a significant $13.2 billion is designated for research and workforce development, while $500 million is reserved for international information communications technology security and semiconductor supply chain activities. As part of this legislation, there's also a provision for a 25 percent investment tax credit, aimed at encouraging capital investment in semiconductor manufacturing and related equipment. These initiatives are poised to strengthen America's domestic supply chain, create a substantial number of construction and manufacturing jobs, and stimulate substantial private sector investments.
Some of the top Chip Making organizations include; Intel, Qualcomm, Broadcom, Texas Instruments, NVIDIA, Microchip Technology amongst others while their customers include Apple, Dell Technologies, Hewlett-Packard, Amazon, Cisco Systems, Alphabet, Microsoft, Hewlett-Packard, Facebook, Harman International, IBM, Tesla amongst so many others.
California's Governor, Gavin Newsom, has allocated $2 million to the Global Entrepreneur in Residence program at the University of California. This innovative initiative not only attracts international talent but also aligns expertise in semiconductor research and manufacturing. It will ensure a steady supply of semiconductors, and create jobs, especially for immigrants, or those planning to relocate. HR Strategy by the US, Australia and UK, and Australia to incorporate skilled workers from other African countries and other nations of the world have been in motion.
This is an opportunity every immigrant should take advantage of. Our partnership with the University of California, Santa Cruz introduces an intensive training program focused on a single course that covers semiconductor design.
This course offers hands-on experience in areas such as hardware specification, logic design, verification, synthesis, physical implementation, circuit design, and integrated circuit testing. Also, participants will learn how to use industry-leading tools like Cadence, OpenROAD, Siemens, and Synopsys.
For immigrants planning to relocate to the US, this program provides a golden opportunity. It equips them with sought-after semiconductor design skills, aligning perfectly with the high demand in the job market. As the semiconductor industry continues to grow, there is an increasing need for skilled professionals who can contribute to this exciting field. This collaboration positions immigrants to tap into the thriving job market.
The course comprises two tracks:
Track 1: Front-end Design
Designed for professionals interested in architectural definitions and logic designs for Application-Specific Integrated Circuits (ASIC) implementation.
Track 2: Back-end Design
For those intrigued by the physical implementation of ASIC designs, this track guides participants through the process from synthesis to silicon realization.
At the completion of the course, participants should be able to:
Master Verilog modeling for digital logic.
Develop formal verification skills using SystemVerilog assertions.
Build advanced UVM verification environments.
Understand Design for Testability (DFT) concepts in ASIC design.
Engage in practical designs using Xilinx FPGAs.
Navigate the complete process from RTL (Register-Transfer Level) to GDS (Graphic Data System).
We ensure inclusivity and accessibility. People from various backgrounds and cultures who are enthusiastic about excelling in semiconductor design are welcome to enroll in this course.
For more details about this,
Do you want to kickstart your learning journey? Send an email to coursemanager@heelsandtech.com.