From Lawyer to Business Analyst: Funmi's Inspiring Journey
November 16, 2023
2023-11-16 15:59
From Lawyer to Business Analyst: Funmi's Inspiring Journey
From Lawyer to Business Analyst: Funmi's Inspiring Journey
The story of Funmi is that of a remarkable woman who transitioned from a career in law to a career in the tech industry, all with the support of Heels and Tech. Have a great read!
Funmi began her career as a lawyer after earning her degree from a Nigerian university. She was passionate about upholding justice and representing her clients. She thrived in the legal field. However, as time passed, a desire for something different began to stir within her.
This longing led Funmi to an unexpected crossroads. She stumbled upon the world of technology, which initially seemed light-years away from her legal background. The idea of transitioning into tech was daunting, as she had no prior experience in this field. Doubts crept in, but Funmi possessed a strong determination to embrace new challenges.
Meeting Heels and Tech
During her quest to transition, Funmi discovered Heels and Tech, an organization dedicated to empowering women in technology. She enrolled in our Business Analysis course, feeling both excited and nervous about her new journey.
The beginning was challenging, as the tech world was unfamiliar territory to Funmi. However, Funmi's legal background, with its emphasis on critical thinking and problem-solving, turned out to be an asset. Her ability to analyze complex legal documents translated well into the tech universe.
In the fast-paced tech industry, adaptability is really important! Funmi became a quick learner, soaking in new knowledge and skills with excitement.
Beyond gaining technical prowess, Funmi's leadership skills shone as she took on the role of group lead during her cohort. Admirable yeah? She guided and motivated her peers, fostering an inclusive environment where everyone felt valued. She became a super star student!
As she continued to gain confidence, she excelled even more and finished her training. We were so proud of her!
Hurray! She got a job!
Funmi ventured into the job market, facing the challenges of applications and interviews. It was a draining experience, leading to moments of doubt. However, Heels and Tech's Alumni Community became a lifeline.
Within the community, Funmi found support and a sense of belonging. She connected with fellow alumni who understood her journey and the challenges she faced. It was within this network that she discovered a job opportunity that aligned perfectly with her aspirations.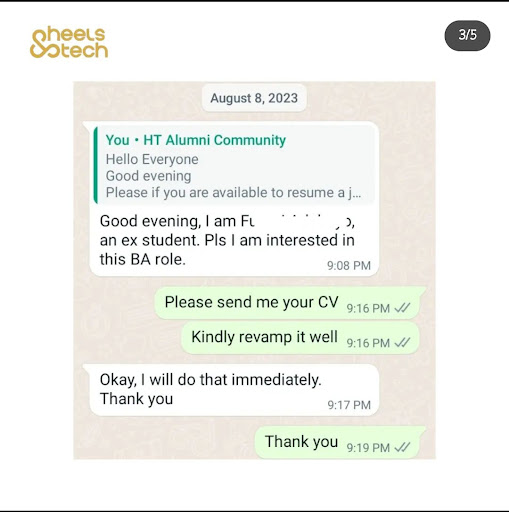 With renewed determination, Funmi applied for the position. The interviews were rigorous, but she was well-prepared, drawing on the skills and knowledge she gained through Heels and Tech. Her confidence showed, and she impressed her potential employers.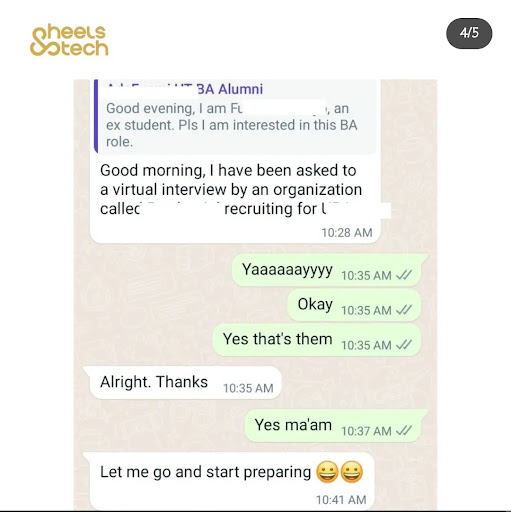 Funmi's journey reached an extraordinary culmination when she not only secured the job but exceeded expectations. She seamlessly transitioned into her role as a Business Analyst, leveraging her legal background to provide valuable insights. You'd agree that that's just simply superb!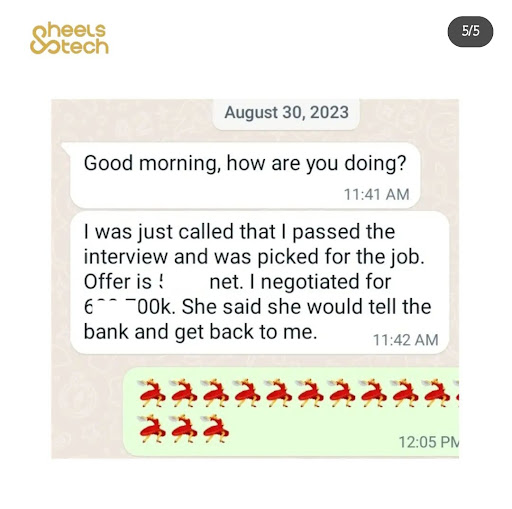 Funmi had found a great opportunity in the tech industry. Her legal background was no longer an obstacle but a unique strength. She had transformed from a beginner into an expert in tech, making her mark in the industry.
Don't Hesitate, Unlock Your Potential Today!
We celebrate Funmi as our newest Business Analyst—a symbol of resilience, adaptability, and the spirit of women in tech.
Her story is not just a personal triumph but a celebration of all women who redefine their careers, break boundaries, and thrive in the tech industry. It has taught us that one's career path need not be linear. It can meander, diverge, and even backtrack, but in every twist and turn, there is an opportunity to learn and grow. The path she chose was not the one she initially set out on, but it has led her to a fulfilling career in the tech industry. Her story reminds us that it's never too late to change course, to pursue a new passion, and to reinvent ourselves.
Importantly, her journey is a testament to Heels and Tech's mission: to empower to easily transition into and thrive in tech. In celebrating Funmi's success, we celebrate the spirit of women in technology who dare to defy expectations, rewrite their narratives, and inspire others to do the same.
Were you inspired by Funmi's story? Your story can be next. We look forward to being a part of your journey as you embark on your own tech adventure
Enroll in our next Business Analysis cohort or visit our course catalog to view all courses available on our website.