Petrina
May 31, 2022
2022-05-31 14:02
Petrina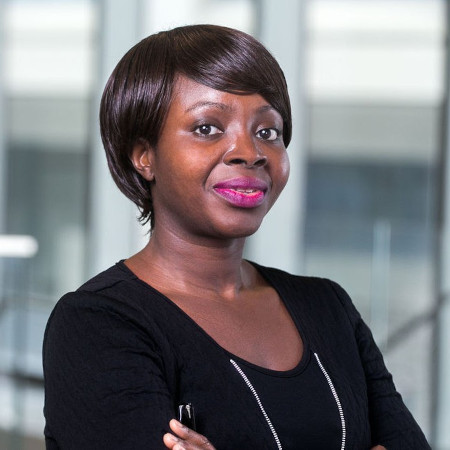 Petrina is a leader who is passionate about enabling others to become the best version of themselves and to excel in every aspect of their professional career. As a Third Culture Individual (TCK) who was raised outside of her parents' country of origin – Ghana and having been raised in different countries and continents from the Middle East to Europe and now finally North America she has an understanding of the challenges faced by professionals who migrate to new countries trying to adjust to restarting their professional careers or launching into new careers.
Petrina has worked within diverse industries from Telecommunications, Oil and Gas, Humanitarian to Agriculture and had lived and worked in Sweden, UK and Canada as a Business Analyst/Agile Scrum Coach.
Petrina has a Masters of Business Administration from JIBS in Sweden and a Bachelor of Business from the University of Waterloo in Canada.
Petrina loves people, processes and technology. This has led her to teach the next generation of Business Analysts on how to be curious, efficient and effective. She has trained over 400 students and counting with various students landing roles in top Canadian organizations in various industries.
She loves to talk about Agile Scrum principles, roles of Scrum Master, Product Owner and Business Analyst and how to provide value to organizations.
Petrina is also interested in Interview preparations, Scrum Master Certifications, career coaching and mentoring.
Book a Session
[webba_booking category=1]
---
What People Have To Say About Her
I love how Petrina delivers her lecture. How she breaks it down into the most simplest words for understanding
Jasmine
Business Analysis Student
---
Petrina is very Patient, jovial, kind and always ready to answer your questions.
Franca
Business Analysis Student
---
Petrina is an awesome coach always ready to help. Also makes sure you put in the work.
Motolani
Business Analysis Student
---
Petrina has got to be the best trainer ever. She ensures that everyone is carried along.
Angel
Business Analysis Student
---
Petrina is a Seasoned lady who doesn't mind explaining over and over again for all to be on the same page.
Anonymous
Business Analysis Student
---
Petrina has the patience of Job. ??????. She knows her onions and is willing to make sure you understand. No question is foolish or irrelevant. She's an awesome teacher.
Monica
Business Analysis Student
---
Petrina's patience is absolutely remarkable.
I will recommend this to anyone who cares to know. I hope to share some good news soon and hopefully take some other courses
Ayomide
Business Analysis Student
---
Petrina, is a great facilitator, a true teacher. Her patience needs to be studied by all. She took her time to carry everyone along, ensured everyone understood the topics. As long as there are questions to ask, there is a Petrina to answer
Funmi
Business Analysis Student
---
Petrina is a calm tutor who would hold your hands throughout your learning journey and would calmly answer your questions regardless of how irrelevant you might think it is
Obiageri
Business Analysis Student
---
I've been hearing about Petrina from various testimonials about her patience, but I literally got to see it myself. She's patience personified. She's a great teacher and trainer, approachable and solution oriented
Pearl
Business Analysis Student
---
Petrina has been amazing with guiding and facilitating the classes and sharing her experience
Deborah
Business Analysis Student
---
Petrina is a patient tutor. She makes sure everyone is carried along. She ensures everyone has clarity at every point
Yewande
Business Analysis Student