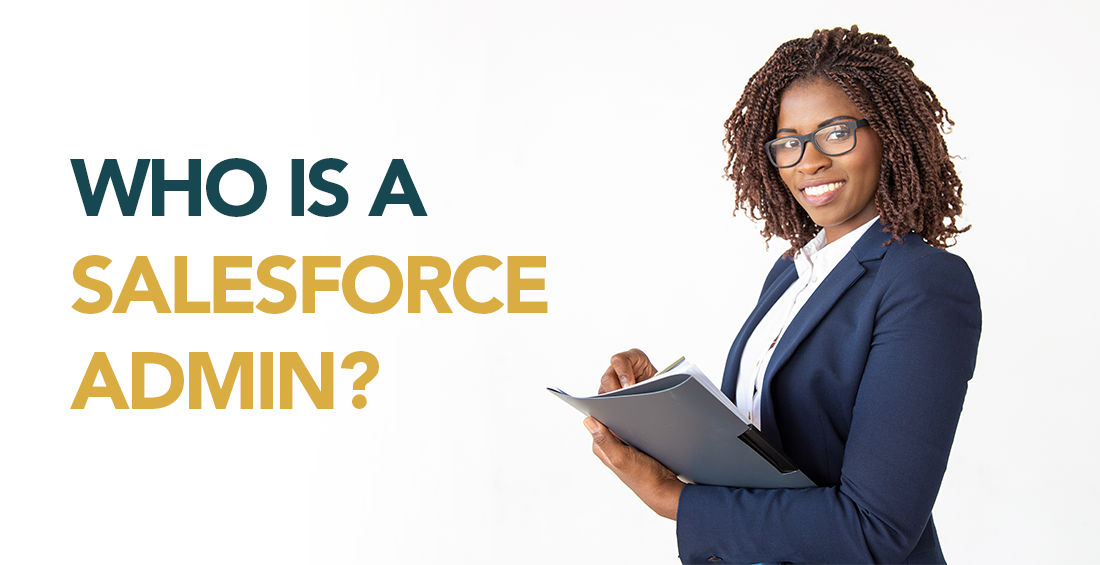 Who is a Salesforce Admin?
The edge a business has over another in the same industry is not only in the quality of product anymore. Many brands out there now have similar products.
What businesses prioritize now more than ever are their customers. How to turn new customers into returning ones. How to ensure long-time customers remain pleased with the product quality. Overall, businesses are fixated on making every customer's experience the best. That's why most use Salesforce.
Take for instance, Spotify, a top streaming service. Spotify uses Salesforce CRM to request product reviews from customers regularly, track progress against quarterly targets, and individual achievements to help customers. But this isn't all Salesforce does for Spotify. Salesforce is a cloud computing platform. That means Spotify workers have access to customer data and those of prospective buyers in real-time. Workers in different branches worldwide feel as though they are in the same office.
Simply put, Salesforce is a proficient and powerful method of CRM that brings companies and clients together.
A lot has been said about how companies use Salesforce to have a 360 degree view of their customers and accrue profits but, who operates Salesforce for them?
A Salesforce Administrator or Salesforce Admin is therefore a Salesforce expert that can customize the software features to fit a company's needs.
What does Salesforce Admin do?
The roles of a Salesforce admin include automating workflows specific to a company. Every company has a sales team, a marketing team and customer service. It is the job of a Salesforce to ensure each team uses Salesforce at the highest level possible.
The administrator is also responsible for account security of users within the company. Remember all those times you forgot your Facebook or Twitter password and requested help? Well, your job as an admin involves resetting passwords of forgetful users :). You are also the one that has the clearance to deactivate user accounts of workers that have left the company.
Your role as an admin also involves running periodic checks on the Salesforce system for updates, to erase duplicate data, and ensure the database remains free of malware.
One thing that really stands out about them is their ability to build business applications. Yes, an admin can configure and customize a company's Salesforce software to create applications tailored for that company workflow.
Read on to get answers to other questions you may have about a Salesforce Administrator.
Is Salesforce easy to learn?
Yes, Salesforce is easy to learn. All you need do is get resources that are beginner-friendly and start learning.
There is a free webinar here on Heels and Tech that introduces you to what this profession is all about.
Once you've digested that, you can go ahead and sign up for the main Salesforce CRM course. Our course is streamlined to give you the full package in a simplified manner so you learn everything you need at your own pace. And you grab it all within 8 weeks.
Is Salesforce Admin job easy?
If you mean in terms of workload and learning process, then yes, a Salesforce Admin job is easy. Most of what a Salesforce Admin does is automated. Creating workflows, user profiles, resetting passwords and the likes. The Administrators need only point and click.
Once a Salesforce Admin understands the operation of the CRM cloud software, the only other work involved is the decision making part. Like the best solution to this task or that task.
How do I become a Salesforce Admin?
You can become a Salesforce Admin by taking a course that teaches you how to operate the Salesforce CRM software and then writing your certification exam.
The best course to take on Salesforce CRM would be a practical type that exposes you to real-life work assignments and the like. Such as the hands-on and totally practical one right here on our website. See what Oluwakemi, a previous student had to say about her training with us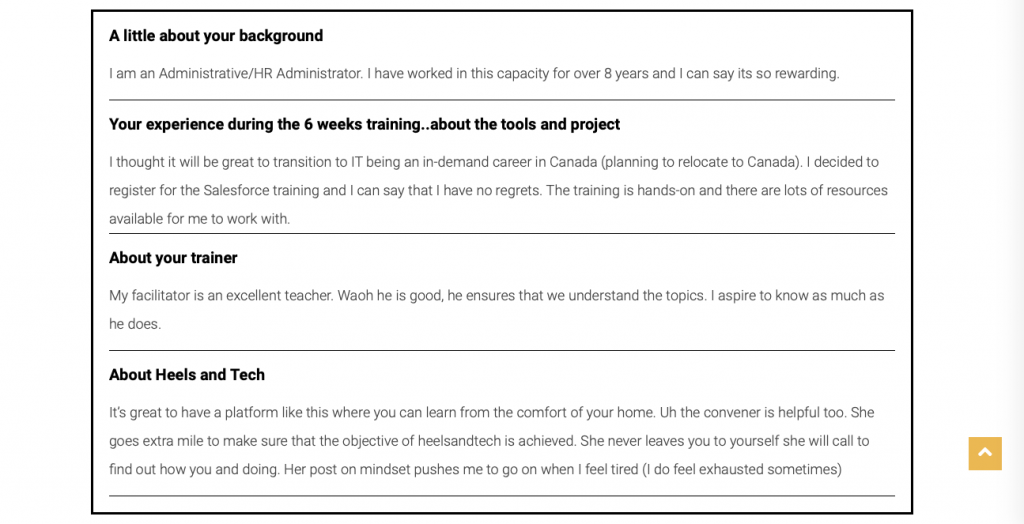 There are two certification exams for this career namely the Salesforce Certified Administrator and Salesforce Certified Advanced Administrator. The Salesforce company coordinates these certification exams and more information can be found on their website.
What is the difference between a Salesforce Administrator and Developer?
A salesforce administrator is on the customer side of things while the Salesforce developer does the technical bit.
If a Salesforce Administrator creates workflows, user accounts, business applications and the likes. Then it is the Salesforce developer working behind the scene, writing codes that make the applications the Administrator uses work the way they should.
A Salesforce Administrator is like an executive figurehead that makes decisions and directs the team on what to do as regards making the customer experience a hundred percent. The Salesforce developer is right there on the team.
Is Salesforce a good career option?
Yes, Salesforce is a good career option. And I'm talking worldwide.
First and foremost, Salesforce is the number one CRM provider and has remained so for eight straight years since its launch. Small businesses use it, big companies use it. That's a lot of places which will need a professional to administer and implement the cloud-based tool.
If we're talking versatility too, Salesforce has got that. You can specialize as a Salesforce Administrator, Salesforce Developer, Salesforce Architect, Salesforce Product Manager, or even a Salesforce Business Analyst. It's a lot of green pasture in this field.
And even better, it's a really high paying tech job too. See
Can you get a Salesforce Admin job with no experience?
Yes, you can get a Salesforce admin job with no experience at all. What you need to do is make sure you are well prepared for the interview process and the job itself.
Esther, a past student of our Salesforce CRM course felt like this too. But, she braved the odds and got herself a job with a delicious pay. Listen to her story for a morale boost. You can also listen to the secrets we shared on acing your interview as a Salesforce Admin.
Are Salesforce Admins in demand?
Yes, Salesforce Admins are in-demand, highly even. Look at the number of employers seeking salesforce administrators on job sites alone. Now look at the average pay attached.
Infact, Salesforce and its ecosystem are expected to enable the creation of 4.2 million jobs between now and 2024 worldwide.
Bet those numbers cleared your doubts real quick 🙂
Does Salesforce Admin require coding?
No, being a Salesforce Admin requires no coding. In fact, this is one of the easiest non coding tech jobs for anyone to switch to.
Alexius who currently works as a salesforce administrator at Hootsuite shared with us how she was able to smoothly transition from customer care to a career in salesforce and now earns 6 figures. You can achieve that too, zero coding required.
How do I study to become Salesforce Admin?
You can study to become a Salesforce admin by joining the Heels and Tech community and also taking our Salesforce CRM course. Other than being a practical course, you become a member of a community of people on the same journey as you and are also provided with trainers who are available to assist your learning process. See Ololade's review of her training: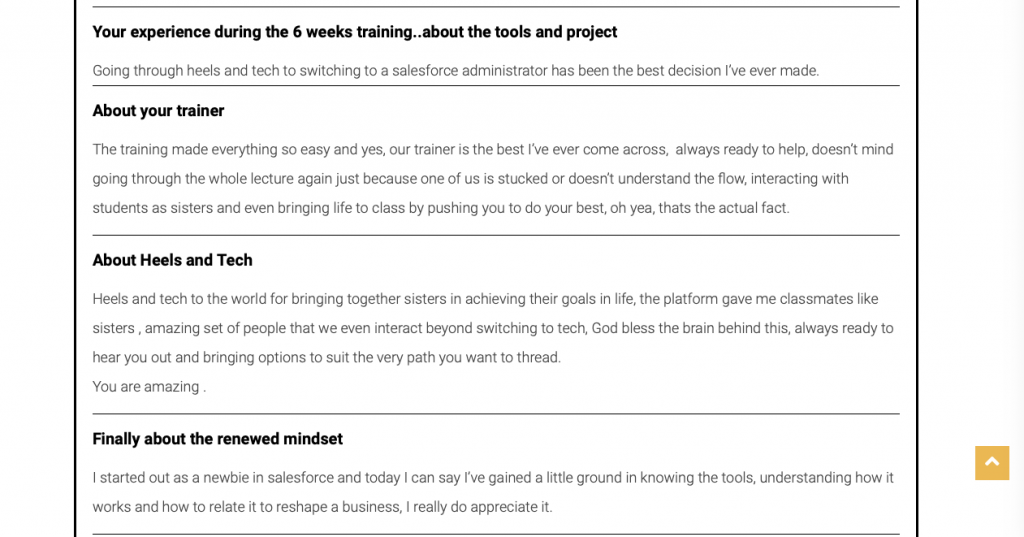 You can also study on your own. There are many resources like the free tutorials organized by Salesforce itself at trailhead, the popular Salesforce Ben blog and also many salesforce reddit rooms can help too.
How long does it take to learn Salesforce Admin?
It can take 2-5 months for you to train to become a Salesforce Admin. How long it takes depends on the learning plan you opt for.
Training on our platform, however, takes 8 weeks and a total of 40 hours. You can get more information on our Salesforce CRM course page.
It may take longer to learn if you prefer to do it on your own.
How do I learn Salesforce for beginners?
If you want to learn Salesforce for beginners, then it is best to opt for courses that slowly break down how to operate Salesforce as a customer relationship management tool.
A good beginner-friendly course to take is right here on Heels and Tech. Our course is specially designed to cater for beginners with no technical background or prior experience. What's more? The Salesforce brand itself endorses it as a perfect course for you.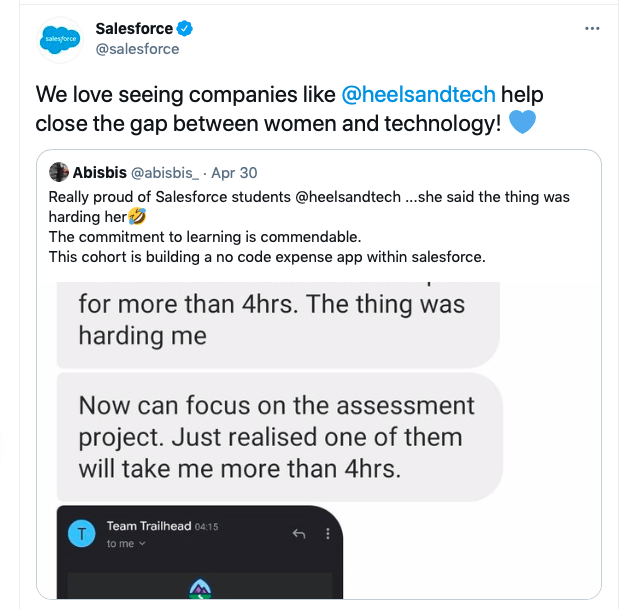 Final Thoughts
Having the technical know-how of the #1 CRM software worldwide can give you an upper hand when applying for jobs in the tech space or in any other industry. It can also advance your career in your chosen field. So, if you started reading this not sure of what tech job to pursue and who a Salesforce Admin really is, I hope now you're clear on the job description and will make the right choice to start learning for a career in Salesforce.